Stickers from your favorite illustrator Takashi Mifune featuring the popular anime Jujutsu Kaisen. This time they move!

Disclaimer:
This article is compliant with copyright regulations due to the inclusion of publisher information.
The provided link allows official purchase of the stickers, avoiding unlawful sales.
The article contains a review of the "Jujutsu Kaisen" sticker pack available on the LINE Chat app.
The stickers are officially sold on the LINE Store, ensuring legitimacy.
Purchasing the sticker pack from the LINE Store supports artists and content creators.
Inclusion of source information demonstrates respect for copyright and ethical content usage.
The article encourages adherence to copyright guidelines and ethical considerations.
The official link leads to the LINE Store, a reputable platform known for selling trustworthy digital content.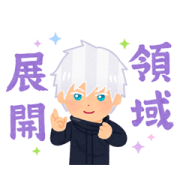 https://www.line-stickers.com
–
Jujutsu Kaisen × Irasutoya (Animated) LINE Stickers
:
Are you a fan of the hit anime and manga series Jujutsu Kaisen? If so, get ready to level up your LINE chats with the Jujutsu Kaisen × Irasutoya (Animated) stickers! These animated stickers feature the beloved characters from Jujutsu Kaisen in cute and expressive illustrations created by Irasutoya. Let's dive into the details of these exciting stickers that are sure to add a touch of magic to your chats!
These stickers bring the world of Jujutsu Kaisen to life in a new and unique way. Created in collaboration with SHUEISHA and the Jujutsu Kaisen Project, these stickers feature the iconic characters from the series, such as Yuji Itadori, Megumi Fushiguro, Nobara Kugisaki, and many more, in adorable and dynamic animations. These stickers are perfect for expressing a wide range of emotions, from excitement and joy to anger and surprise, making your chats more dynamic and engaging.
One of the standout features of these stickers is their animation. With smooth and high-quality animations, these stickers truly come to life on your screen. Watch as the characters move, jump, and use their jujutsu techniques in these fun and expressive animations. The animations add an extra layer of excitement and entertainment to your chats, making them a great choice for Jujutsu Kaisen fans and anime lovers.
It's also worth noting that these stickers have no expiry date, which means you can use them for as long as you want without worrying about them disappearing. This gives you the freedom to use them in your chats at any time, whether it's to express your emotions, share your love for Jujutsu Kaisen, or simply add a touch of fun to your conversations. The lack of an expiry date makes these stickers a great long-term investment for Jujutsu Kaisen fans who want to enjoy them for years to come.
The language of these stickers is in Japanese, which adds an authentic touch to your chats. If you're a fan of the Japanese language or culture, these stickers provide a fun and interactive way to practice your Japanese skills or share your love for the language with others. Even if you're not familiar with Japanese, the expressive animations and cute illustrations can still be appreciated by anyone who enjoys the world of Jujutsu Kaisen.
The copyright of Jujutsu Kaisen × Irasutoya (Animated) stickers is held by Gege Akutami, SHUEISHA, and the Jujutsu Kaisen Project, ensuring that you're getting an officially licensed product. This guarantees the quality and authenticity of the stickers, and also supports the creators and the continued success of the Jujutsu Kaisen franchise. By using these stickers, you're showing your support for the series and contributing to the fan community.
To get your hands on the Jujutsu Kaisen × Irasutoya (Animated) stickers, simply visit the LINE sticker shop using the link. The stickers are available for purchase at a price of 100 Coins, which is a small investment for the hours of fun and excitement they will bring to your chats. Once you've purchased the stickers, they will be automatically added to your sticker collection, and you can start using them in your LINE chats right away.
So why wait? Grab your broomstick and join Yuji Itadori, Megumi Fushiguro, and Nobara Kugisaki on their jujutsu adventures with the Jujutsu Kaisen × Irasutoya (Animated) stickers. Express yourself, share your emotions, and add a touch of anime magic to your chats with these adorable and dynamic stickers. Don't miss out on this unique collaboration between SHUEISHA, the Jujutsu Kaisen Project, and Irasutoya. Get your stickers today and let the world of Jujutsu Kaisen come to life in your LINE conversations!
The Jujutsu Kaisen × Irasutoya (Animated) stickers are a fun and exciting addition to your LINE chats. With their cute and expressive animations, no expiry date, Japanese language, and official copyright, these stickers are a must-have for all Jujutsu Kaisen fans. Purchase them from the LINE sticker shop, add a touch of magic to your conversations, and join the world of jujutsu sorcerers in their thrilling adventures. Get ready to express yourself in a whole new way with these dynamic and adorable stickers!