Start the new year off on the right foot with these animated Snoopy New Year's stickers. This adorable beagle's antics will have you smiling from ear to ear!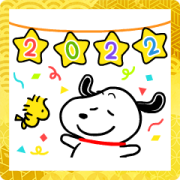 Title : Animated Snoopy New Year's Stickers
Type : Animation
Expiry Date : Available till January 31, 2022.
Language : Japanese
Link : line://shop/detail/24991
https://www.line-stickers.com
–
Animated Snoopy New Year's Stickers LINE Stickers
: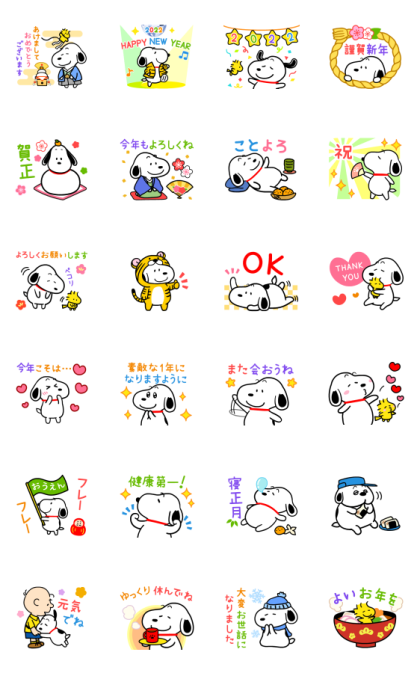 Get ready to ring in the New Year with style and cuteness with Animated Snoopy New Year's Stickers! These adorable stickers featuring everyone's favorite beagle, Snoopy, are the perfect way to express your New Year's greetings and spread some cheer in your LINE and Whatsapp chats. Let's take a closer look at what makes these stickers so special!
As the New Year approaches, these animated stickers are here to add some excitement and joy to your chats. Created by TV TOKYO Communications Corporation in collaboration with SNOOPY, these stickers feature the beloved Peanuts character Snoopy in various festive poses and expressions. From Snoopy wearing a kimono to Snoopy dancing with joy, these stickers capture the spirit of New Year's celebrations in a fun and animated way.
One of the unique features of these stickers is their animation. Unlike static stickers, these stickers come to life with cute and playful animations that are sure to make your chats more engaging and entertaining. Watch Snoopy dance, jump, and celebrate in his signature style as you send your New Year's greetings to friends and family. The animations add an extra layer of fun and personality to these stickers, making them a standout choice for your chats.
However, it's important to note that these stickers have an expiry date. They are available for use until January 31, 2022, so make sure to grab them before they're gone! This limited availability makes them even more special and adds a sense of exclusivity to your New Year's greetings. Once you've purchased these stickers, you can use them as many times as you want within the available period, making your chats truly festive and memorable.
These stickers are in Japanese language, which adds a unique cultural touch to your chats. If you're a fan of Japanese culture or language, or if you're looking to practice your Japanese skills, these stickers provide a fun and interactive way to do so. Send New Year's greetings in Japanese using these stickers and impress your friends with your language proficiency. Even if you're not familiar with Japanese, the cute animations and expressive illustrations of Snoopy are universal and can be appreciated by everyone.
The copyright of Animated Snoopy New Year's Stickers is held by Peanuts Worldwide LLC, ensuring that you're getting an authentic and officially licensed product. Peanuts Worldwide LLC is known for its dedication to preserving the legacy of Charles M. Schulz's beloved characters, including Snoopy, and bringing them to life in various forms of media. By using these stickers, you're supporting the continued success and creativity of Peanuts Worldwide LLC and enjoying a high-quality product.
Animated Snoopy New Year's Stickers are a delightful and charming way to celebrate the New Year in your LINE and Whatsapp chats. With their cute animations, limited availability, Japanese language, and official copyright, these stickers are a must-have for all Snoopy fans and those who appreciate the joy of the New Year's season. So grab your coins, get your Snoopy stickers, and spread some festive cheer in your chats!