The first set of BT21 uniform stickers are here! CHIMMY and his friends are gonna cheer you on in the days ahead! Welcome spring with a smile.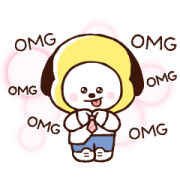 Title : BT21 Fast Friends
Type : Animation
Expiry Date : No Expiration Date
Link :
line://shop/detail/28286 ALL
line://shop/detail/28095 JP
line://shop/detail/28287 TW HK CH
Publisher : BT21
Copyright : BT21
https://www.line-stickers.com
–
BT21 Fast Friends LINE Stickers
: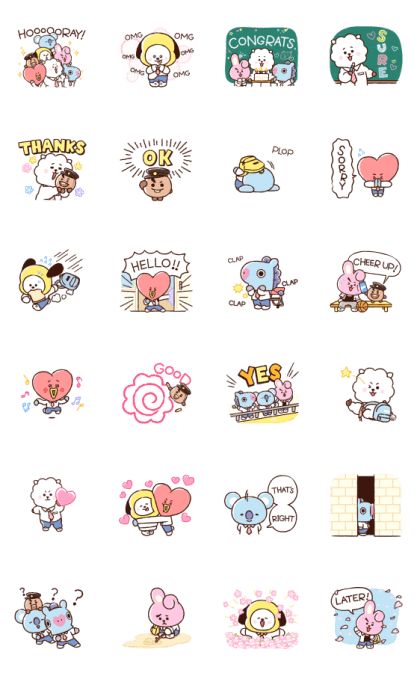 Are you a fan of BT21? Do you love using stickers to add fun and excitement to your chats on LINE and WhatsApp? If so, you're in for a treat! BT21, the beloved characters created by the popular South Korean boy band BTS, has released a set of animated stickers called "BT21 Fast Friends" that are perfect for expressing yourself in chats with your friends and loved ones. Available in English, Japanese, and Mandarin, these stickers are a must-have for any BT21 fan!
BT21 Fast Friends stickers are available for purchase for 100 Coins, making them a paid option for users. However, the vibrant animations and adorable designs are well worth the price for any fan of BT21. The stickers can be purchased from the official BT21 store on LINE, and there are separate links for different regions.
One of the best features of BT21 Fast Friends stickers is that they are animations, which means they come to life with movement and sound, making your chats even more dynamic and engaging. The animations feature various BT21 characters, including Tata, RJ, Chimmy, Cooky, Shooky, Koya, Mang, and Van, in their signature poses and expressions, adding a touch of cuteness and fun to your chats. From waving hello to blowing kisses, these stickers are perfect for expressing a wide range of emotions and reactions in your chats.
Another great thing about BT21 Fast Friends stickers is that they have no expiration date, which means you can use them in your chats for as long as you like without worrying about them disappearing. This makes them a great investment for BT21 fans who want to continue using these adorable stickers to express themselves in their chats for the long term.
In addition to their availability in English, BT21 Fast Friends stickers also come in Japanese and Mandarin, making them accessible to fans all over the world. Whether you're chatting with friends from different countries or simply want to practice your language skills, these stickers provide a fun and interactive way to communicate in different languages. Plus, with the universal appeal of BT21 characters, these stickers are sure to bring a smile to anyone's face, regardless of their language background.
BT21 Fast Friends stickers are published by BT21, the official brand created by BTS. This means that you can trust the authenticity and quality of these stickers, knowing that they are officially licensed and approved by the creators of BT21. The stickers are also protected by copyright, ensuring that they are unique and exclusive to BT21 fans.
To add BT21 Fast Friends stickers to your LINE and WhatsApp chats, simply follow the link to the official BT21 store and select the version that corresponds to your region and language preference. Once you've made your purchase, the stickers will be automatically added to your sticker library, and you can start using them right away in your chats. Simply select the sticker you want to use and send it to your friends to add a touch of BT21 magic to your conversations!
BT21 Fast Friends stickers are a must-have for any BT21 fan who wants to add a dose of cuteness and fun to their chats on LINE and WhatsApp. With their vibrant animations, adorable designs, availability in multiple languages, and official licensing by BT21, these stickers are a high-quality and delightful addition to any chat collection. So why wait? Get your BT21 Fast Friends stickers today and start expressing yourself in style with your favorite BT21 characters!