That little cutie is back and now she's moving around with sound! Bring her to your chats today.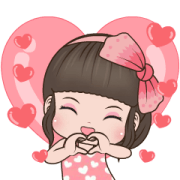 Publisher : prapan26
Copyright : 2015 prapan
https://www.line-stickers.com
–
Cutie Tight LINE Stickers
: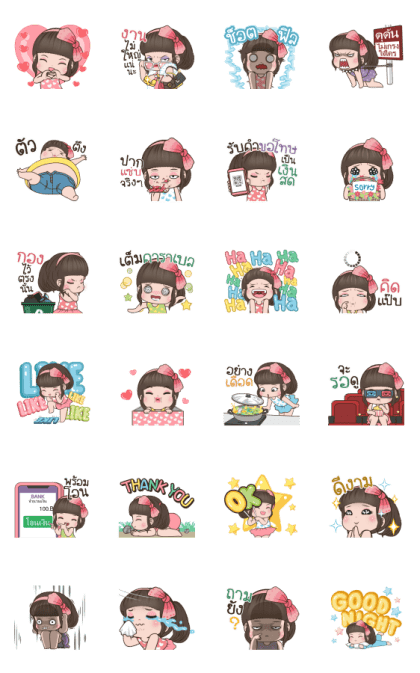 Get Ready to Squeal with Laughter with Cutie Tight Stickers for LINE and Whatsapp!
Are you ready to add some cuteness overload and hilarious antics to your chats? Look no further than Cutie Tight Stickers! Brought to you by prapan26, this paid sticker set is designed to make your conversations come alive with animated fun and playful sound clips in Thai language. Get ready to squeal with laughter with Cutie Tight Stickers for LINE and Whatsapp!
Cutie Tight Stickers are not your ordinary stickers. They are a combination of adorable animations and funny sound clips that are sure to bring a smile to your face. Featuring a lovable and quirky character, these stickers are perfect for expressing a wide range of emotions in a unique and humorous way. From giggles to guffaws, Cutie Tight Stickers will add an extra dose of cuteness and laughter to your chats.
One of the best things about Cutie Tight Stickers is their versatility. These stickers can be used in various situations to convey different emotions. Feeling happy? Share an animated sticker with a "Yay!" sound clip. Need to express surprise? Use a "Wow!" sticker with an accompanying sound effect. Want to convey annoyance? There's a "Hmpf" sticker for that. The possibilities are endless with Cutie Tight Stickers, and they are sure to add a touch of hilarity to your chats.
Purchasing Cutie Tight Stickers is easy and affordable. With just 85 Coins, you can unlock this adorable and funny sticker set and have it instantly available in your sticker collection. And the best part? There's no expiration date, so you can continue to use these stickers in your chats for as long as you like. Say goodbye to dull chats and hello to endless laughter with Cutie Tight Stickers!
The copyright of Cutie Tight Stickers is held by prapan26, ensuring that you are using authentic and officially licensed content in your chats. This means that you can share these stickers with confidence, knowing that you are using genuine and original animations and sound clips to add cuteness and humor to your conversations. prapan26 is a renowned publisher known for their creative and entertaining sticker sets, and Cutie Tight Stickers are no exception.
To get your paws on Cutie Tight Stickers, simply follow the link provided to the LINE store and make your purchase with 85 Coins. Once you've purchased the sticker set, it will be added to your collection, and you can start using the adorable animations and funny sound clips in your chats right away. Get ready to giggle and snicker with Cutie Tight Stickers!
Using Cutie Tight Stickers in your chats is a breeze. Simply select the sticker from your collection, and the animated character will come to life with its accompanying sound clip. You can use these stickers in individual chats or group chats, and they are guaranteed to bring smiles and laughter among your friends and family. Say goodbye to mundane chats and hello to non-stop amusement with Cutie Tight Stickers!
Cutie Tight Stickers are also a great way to showcase your love for Thai language and culture. If you're a fan of all things cute and funny or want to add a touch of Thai flavor to your chats, these stickers provide a fun and engaging way to do so. You can impress your Thai friends with your knowledge of local expressions or simply enjoy the unique animations and sound clips that capture the essence of Thai language.
In conclusion, Cutie Tight Stickers are a must-have for anyone who wants to add a dose of cuteness and laughter to their LINE and Whatsapp chats. With their adorable animations, funny sound clips, affordable price of 85 Coins, and no expiration date, these stickers are perfect for bringing joy.