Engy is back with an energy boost for everyone, always by your side and wishing you a good time every day. Download them now! Friend EGAT's official account to get this set.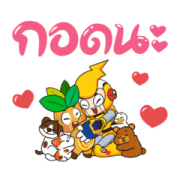 Title : ENGY Supports Your Steps
Price : Free
Type : Animation
Expiry Date : Available till July 29, 2023.
Language : Thai Language
Link : line://shop/detail/28519
https://www.line-stickers.com
–
ENGY Supports Your Steps LINE Stickers
:
Stickers are a great way to express emotions and thoughts in messaging apps like LINE and Whatsapp. They add a fun and colorful touch to our conversations and help us communicate more effectively. But stickers can also be used for a greater purpose, like promoting important causes and raising awareness about issues that matter. One such example is the "ENGY Supports Your Steps" sticker pack, created by the Electricity Generating Authority of Thailand (EGAT) to promote clean energy and sustainable development.
The ENGY sticker pack features cute and colorful characters that represent various forms of clean energy, such as wind turbines, solar panels, and hydroelectric dams. Each character has its unique personality and expressions, making them a fun and relatable addition to any conversation. The pack includes 16 animated stickers and is available for free on LINE until July 29, 2023.
So why is EGAT promoting clean energy through stickers? The answer lies in Thailand's energy landscape, which heavily relies on fossil fuels like natural gas and coal. While these sources of energy are abundant and affordable, they also come with significant environmental and health risks, such as air pollution, greenhouse gas emissions, and climate change. EGAT, as the country's main power producer and distributor, recognizes the importance of transitioning to cleaner and more sustainable sources of energy to address these challenges and ensure a better future for all.
By creating the ENGY sticker pack, EGAT hopes to engage and educate the younger generation about the benefits of clean energy and inspire them to take action towards a more sustainable future. The sticker pack is part of EGAT's broader efforts to promote clean energy and raise awareness about its initiatives, such as the installation of solar panels on public buildings, the development of wind farms, and the promotion of energy efficiency practices.
The ENGY sticker pack is not only a fun and engaging way to promote clean energy, but it also showcases the potential of stickers as a tool for social impact. Stickers have become an essential part of our digital communication, and by leveraging their popularity, organizations and causes can reach a broader audience and engage with them in a meaningful way. From promoting environmental causes like clean energy to raising awareness about social issues like mental health and diversity, stickers have the power to start conversations and spark change.
ENGY Supports Your Steps sticker pack is a great example of how stickers can be used to promote important causes and raise awareness about critical issues. By combining fun and creativity with a message of sustainability, EGAT has created a unique and engaging way to connect with its audience and inspire them to take action towards a cleaner and greener future. So why not add some fun and color to your conversations and show your support for clean energy by downloading the ENGY sticker pack today?