http://www.line-stickers.com/ – Handa-kun Line Sticker | Barakamon's spin-off anime, Handa-kun, now has its own set of LINE stickers, featuring lots of gag lines from the series. Get to know the younger days of this calligraphy genius!
Name
LINE Sticker
:
Handa-kun
Link : line://shop/detail/8355
Publisher : TOKYO BROADCASTING SYSTEM TELEVISION, INC.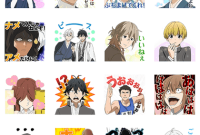 This sticker also know as: