Check out these stickers by the popular illustrator Tomoko Ishii! This time Mickey & Minnie star in an adorable set that's sure to bring some fun to your chats.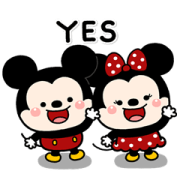 Title : Mickey & Minnie by Tomoko Ishii
Type : Static
Expiry Date : No Expiration Date
Link :
line://shop/detail/28821 ALL
line://shop/detail/28820 JP
https://www.line-stickers.com
–
Mickey & Minnie by Tomoko Ishii LINE Stickers
:

Hey there, sticker lovers! Are you ready to add a sprinkle of Disney magic to your chats? Well, get ready to be dazzled because we've got something truly enchanting for you! Introducing the "Mickey & Minnie by Tomoko Ishii" sticker pack, designed to bring the iconic duo to life with a delightful twist. Get ready for a double dose of cuteness and fun!
Now, let's address the glittering Mickey-shaped elephant in the room: these stickers aren't free. They'll cost you 100 coins, but trust me when I say they're worth every shiny penny. Once you see the adorable designs by Tomoko Ishii, you'll be squealing with joy and wondering how you ever survived without these charming stickers.
The "Mickey & Minnie by Tomoko Ishii" pack features our beloved Mickey and Minnie Mouse in a style that's whimsical, playful, and undeniably cute. Tomoko Ishii's artistic touch brings a fresh spin to the classic characters, showcasing them in various poses and expressions that are simply irresistible. From Mickey's mischievous grin to Minnie's trademark polka-dot bow, these stickers capture the essence of their timeless charm.
But wait, there's more! These stickers are available in both English and Japanese, ensuring that the magic can be shared by Disney fans around the world. Whether you're chatting with friends from different countries or simply want to sprinkle some Disney enchantment into your conversations, these stickers have got you covered. It's like a global language of cuteness that transcends borders and brings smiles to everyone's faces.
And here's the cherry on top: these stickers come with no expiration date. That's right, folks! You can use them to your heart's content, spreading Disney magic and joy in your chats for as long as you desire. It's like having a never-ending supply of happiness at your fingertips!
To get your hands on the "Mickey & Minnie by Tomoko Ishii" sticker pack, simply click on the links below:
line://shop/detail/28821 ALL
line://shop/detail/28820 JP
Please note that this sticker pack is published by The Walt Disney Company (Japan) Ltd., with copyrights owned by Disney. Let's give them a round of applause for bringing us this enchanting collection and adding a touch of Disney sparkle to our chats!
So, my friends, it's time to unleash the Disney magic in your conversations. Let Mickey and Minnie bring joy and cuteness to your chats with their whimsical poses and expressions. Click that link, grab those stickers, and let the Disney fun begin!
That's all for now, folks! We hope this article brought a smile to your face and added a sprinkle of Disney magic to your day. Thank you for reading, and may your chats be filled with laughter, cuteness, and endless Disney enchantment. Until next time, happy sticker-ing!