These stickers feature Rilakkuma relaxing in nature. Use these to spread cheer with easygoing messages.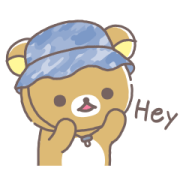 Publisher : Imagineer Co., Ltd. / San-X Co., Ltd.
Copyright : © 2023 San-X Co., Ltd. All Rights Reserved.
https://www.line-stickers.com
–
Rilakkuma Komorebi Camp LINE Stickers
: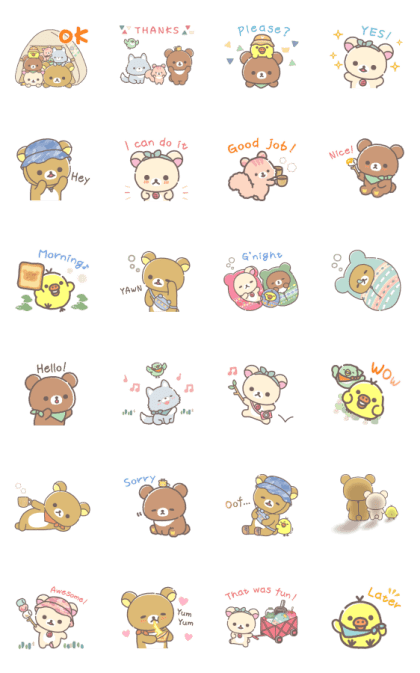 Hey there, sticker enthusiasts and chat aficionados! Have you ever felt that words alone cannot fully express your emotions while chatting with your buddies? Well, fear not, because I've got the perfect solution for you! Introducing the hilarious and adorable Rilakkuma Komorebi Camp stickers, designed to bring a big grin to your face and spice up your conversations on LINE and WhatsApp!
So, what's the buzz all about? Let's dive into the sticker wonderland, shall we?
A mere 100 coins! That's like finding a dollar bill in your old jeans pocket – a small investment for an abundance of laughter and joy. Trust me, these stickers are worth every single coin!
Animation! Yes, you heard that right. These stickers don't just sit there like statues; they come to life! Watch Rilakkuma and friends go on hilarious adventures, pulling pranks, and unleashing their wackiest dance moves. Prepare yourself for a sticker show like no other!
Brace yourselves, my friends, for there is no expiration date. That's right! These stickers are the gift that keeps on giving. You can send them to your pals today, tomorrow, or even a decade from now. Time is irrelevant when it comes to spreading laughter.
The stickers are available in English and Japanese. Whether you want to express yourself in a universal language or add a touch of Japanese kawaii, these stickers have got you covered. It's time to brush up on your "kawaii desu ne" and "arigato gozaimasu" skills!
The masterminds behind this sticker extravaganza are Imagineer Co., Ltd. and San-X Co., Ltd. They've joined forces to bless our chats with the cutest, funniest, and most lovable characters imaginable. Kudos to them for bringing so much joy into our lives!
Now, we must respect the copyright rules, my dear sticker enthusiasts. These stickers are the intellectual property of San-X Co., Ltd., and they have all the rights reserved. So, no funny business with these cute critters!
Now, I know you're itching to get your hands on these rib-tickling stickers, so here's the link to grab your very own set: line://shop/detail/28360 (for all you non-Japanese speakers) and line://shop/detail/28359 (for those fluent in Japanese). Hurry up before they fly off the virtual shelves!
With Rilakkuma Komorebi Camp stickers in your arsenal, you'll be the life of the chat party. Express your excitement, sadness, confusion, and even your "I-can't-even" moments like never before. These stickers will undoubtedly make your friends burst into uncontrollable laughter and keep the conversation rolling.
So, what are you waiting for? It's time to unleash your inner comedian and let the Rilakkuma Komorebi Camp stickers work their magic. Get ready for a wild sticker ride that will leave you and your friends ROFL-ing all day long!
Happy sticker-ing, folks! Keep those chats rolling and those stickers popping!