All your favorite Doraemon friends are going 3D in Toyotown to celebrate the release of their new movie on August 8! Friend Toyotown's official account to get the set.

Title : TOYOTOWN vol.5
Price : Free
Type : Static
Expiry Date : Available till August 25, 2014.
Language : Japanese
Link : line://shop/detail/2793
https://www.line-stickers.com
–
TOYOTOWN vol.5 LINE Stickers
: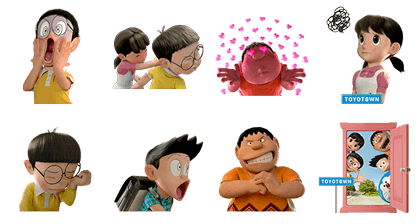 The cute and cuddly characters from Toyotown are back with their latest sticker set, TOYOTOWN Vol. 5! Get ready to immerse yourself in the world of Toyotown with these delightful and playful stickers.
Whether you're looking to express your emotions, make your friends smile, or simply decorate your messages with something fun, these stickers have got you covered. From the adorable rabbit family to the playful bears and the mischievous mice, each character in this set is sure to steal your heart.
Use these stickers to add some charm and whimsy to your everyday conversations. With a range of expressions and poses, you'll find the perfect sticker to convey exactly how you're feeling. Feeling happy? Use the sticker of the bunny jumping for joy. Feeling sad? Use the sticker of the bear with a teardrop.
These stickers aren't just cute, they're also versatile. Use them to add some personality to your social media posts or include them in your next email to brighten someone's day.
So, what are you waiting for? Join the residents of Toyotown in their latest adventure with TOYOTOWN Vol. 5 sticker set!