The beloved character "Yuru Usagi" collaborates with LINE Byte! There are 16 adorable stickers available, including easy-to-use honorific language and the "Fluffy Dog." You can get them by becoming friends with the official LINE Byte account!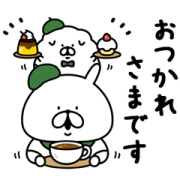 Title : YURU USAGI×LINE Part Time Jobs
Price : Free
Type : Static
Expiry Date : Available until June 7, 2023.
Language : Japanese
Link : line://shop/detail/28210
https://www.line-stickers.com
–
YURU USAGI×LINE Part Time Jobs LINE Stickers
: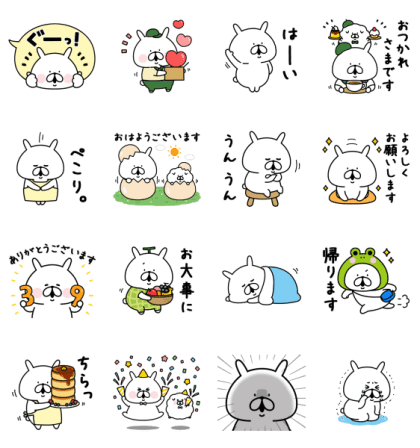 Get ready to dive into the world of part-time jobs with the adorable YURU USAGI × LINE Part Time Jobs sticker pack! Created by chococo in collaboration with LINE Part Time Jobs, these delightful stickers will bring a touch of cuteness and excitement to your chats. Best of all, they're available for free download, making them accessible to everyone looking to add some fun to their conversations.
The YURU USAGI × LINE Part Time Jobs sticker pack offers a variety of static stickers featuring the lovable YURU USAGI character in different part-time job roles. From a cheerful barista to a hardworking office worker, each sticker captures the essence of different job experiences with a touch of adorable charm. These stickers are perfect for expressing your work-related emotions, sharing job updates, or simply adding a dose of cuteness to your chats.
One of the highlights of this sticker pack is its authentic Japanese flair. Created in collaboration with LINE Part Time Jobs, a popular job search platform in Japan, these stickers showcase the unique work culture and job roles found in the country. They are a celebration of the diverse part-time job opportunities available and the enthusiasm that individuals bring to their work. Embrace the Japanese language and culture as you engage in conversations about work and career aspirations.
Make sure to mark your calendars because these charming stickers will be available for download until June 7, 2023. Don't miss out on the opportunity to infuse your chats with the playful energy of YURU USAGI and the world of part-time jobs. To download the sticker pack, simply visit the following link: line://shop/detail/28210. Whether you're an avid LINE user or prefer other messaging platforms, these stickers are compatible with various apps, ensuring that you can share them with friends and colleagues no matter the platform.
The collaboration between chococo and LINE Part Time Jobs has brought together the perfect combination of cuteness and career adventures. These stickers celebrate the joy and challenges of part-time work, reminding us to find enjoyment in our professional endeavors and appreciate the variety of job experiences. They serve as a delightful way to connect with friends, share job-related stories, and spread positivity in your professional conversations.
YURU USAGI × LINE Part Time Jobs sticker pack is a must-have for anyone who appreciates adorable characters and wants to add a touch of fun to their work-related chats. With their charming designs and authentic Japanese touch, these stickers will bring a smile to your face and brighten up your conversations. So, don't wait any longer—download the sticker pack today and let YURU USAGI join you on your part-time job adventures. Enjoy the cuteness and the work-related fun!