Bread Tree's animals get ready for baking time!

https://www.line-stickers.com
–
Bread Tree: Baking Time LINE Stickers
: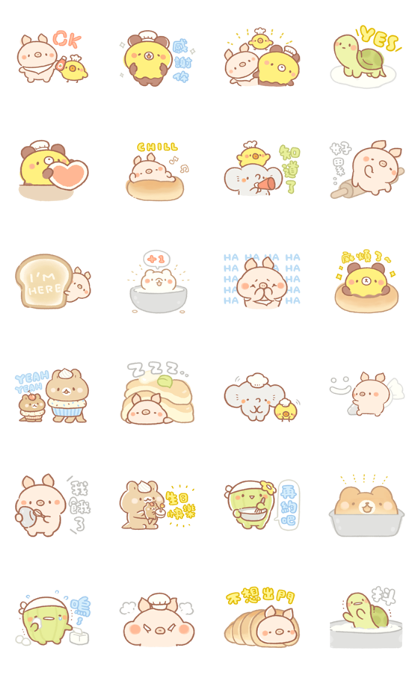 Have you ever wished you could just pluck a freshly baked loaf of bread from a tree? Well, now you can, sort of! Introducing the Bread Tree: Baking Time sticker, the perfect addition to any baking enthusiast's collection.
This delightful sticker features a whimsical illustration of a tree with branches laden with delicious loaves of bread. Each loaf is perfectly golden brown, with steam rising from the soft, pillowy interior. It's enough to make your mouth water just looking at it!
But the real magic happens when you peel off the backing and stick the sticker onto your favorite notebook, laptop, or water bottle. Suddenly, you're transported to a world where bread really does grow on trees, and all you have to do is wait for it to bake.
The Bread Tree: Baking Time sticker is not just cute and fun – it's also a great reminder to take some time for yourself and indulge in the simple pleasure of baking. Whether you're a seasoned pro or a beginner, there's nothing quite like the smell of freshly baked bread wafting through your kitchen.
So next time you're feeling stressed or overwhelmed, take a deep breath and remember: the Bread Tree is always there, ready to offer up a delicious, comforting treat. All you have to do is add a little flour, water, and yeast, and let the magic happen.
In a world that often feels hectic and unpredictable, the Bread Tree: Baking Time sticker is a charming reminder that sometimes the best things in life really are as simple as a loaf of warm, freshly baked bread.