Here's a surreal, fuzzy, cute little bunny rabbit at work! Packed with humor and easy-to-use emotions for everyday use.

Publisher : DK Co., Ltd.
Copyright : 2023 DK Co., Ltd. All Rights Reserved
https://www.line-stickers.com
–
Extremely little Rabbit: Work LINE Stickers
: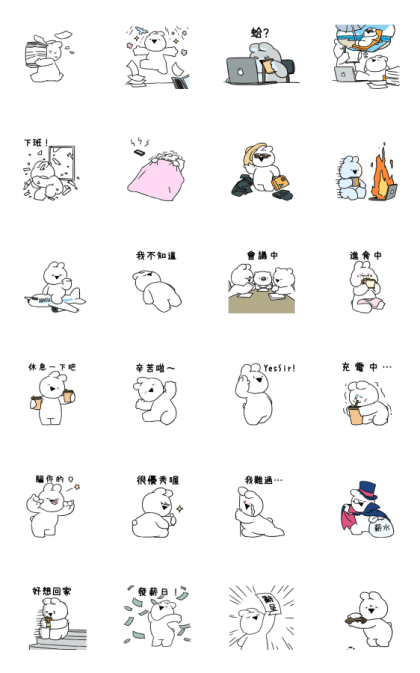 Aadd some cuteness to your work chats with the Extremely little Rabbit: Work sticker pack! These adorable stickers feature a tiny, but hardworking rabbit doing its best to get the job done. This adorable sticker features the lovable and mischievous rabbit character in its work attire, complete with a tie and briefcase.
But don't let its small size fool you – the Extremely Little Rabbit is a big helper in the workplace. Whether you need someone to organize your files or just offer a little bit of encouragement, this little rabbit is always up for the task.
And with its playful expression and bright colors, the Extremely Little Rabbit: Work sticker is sure to put a smile on your face every time you see it. Stick it on your computer, notebook, or desk, and let this cute little rabbit be your work companion.
But the Extremely Little Rabbit isn't just cute – it's also a reminder to take a break and have some fun. Whether you're working long hours or just feeling a little stressed, take a moment to look at this playful sticker and remember to enjoy the little things in life.
So don't miss out on the Extremely Little Rabbit: Work sticker. Whether you're a busy professional or just looking for a little bit of cuteness to brighten up your day, this sticker is sure to become a favorite in your collection. Let the Extremely Little Rabbit be your work buddy and remind you to take a moment to smile and enjoy the little things.