Let the fun characters of Kuroro's reading for kids go on a life adventure with you.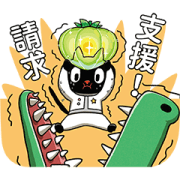 https://www.line-stickers.com
–
Kuroro: Space Adventure Daily LINE Stickers
:

Welcome to the exciting world of Kuroro: Space Adventure! This playful and vibrant set of daily stickers is sure to add some fun to your daily conversations. Join Kuroro and his friends as they explore the vast reaches of space and embark on exciting adventures.
At the heart of Kuroro: Space Adventure are the characters themselves. From the energetic and fearless Kuroro to the shy and bookish Lila, each character brings their own unique personality and strengths to the group. Together, they form a tight-knit crew that is always ready to face any challenge that comes their way.
The world of Kuroro: Space Adventure is full of wonder and excitement. From colorful alien landscapes to high-speed spaceship chases, there's never a dull moment in this cosmic adventure. And with these daily stickers, you can bring that excitement to your own conversations and make every day a little more fun.
Whether you're chatting with friends, sending messages to family, or just expressing your own emotions, Kuroro: Space Adventure has a sticker for every occasion. Need to say "good morning"? There's a sticker for that. Want to celebrate a job well done? Kuroro and his friends have got you covered. With their playful expressions and vibrant designs, these stickers are sure to bring a smile to anyone's face.
But these stickers aren't just cute and fun – they're also versatile and easy to use. With a simple tap, you can add them to your messages and bring some excitement to your conversations. And with their high-quality design and attention to detail, they're sure to stand out and make a lasting impression.
So join Kuroro and his friends on their cosmic adventures, and add some fun to your daily conversations with these playful and vibrant stickers. Whether you're a space enthusiast or just looking for something new and exciting, Kuroro: Space Adventure is the perfect choice for anyone who loves adventure and fun.