Let the fun characters of Kuroro's reading for kids go on a life adventure with you.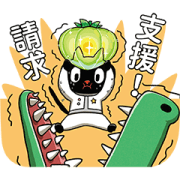 https://www.line-stickers.com
–
Kuroro: Space Adventure Daily LINE Stickers
:

Blast Off to Fun-Filled Interstellar Conversations!
Get ready for an out-of-this-world adventure with Kuroro: Space Adventure Daily stickers! If you're a fan of space exploration, cute characters, and adding some fun to your LINE and Whatsapp chats, then these stickers are perfect for you. Let's take a closer look at what makes Kuroro and his space adventures so special!
Join Kuroro, the lovable and adventurous space explorer, on his daily escapades through the galaxy. These static stickers feature Kuroro in various interstellar situations, from exploring new planets to encountering alien creatures, and everything in between. With their vibrant colors and charming illustrations, these stickers are sure to capture your heart and bring a smile to your face.
Kuroro is not your typical space explorer. He's a small and plump alien creature with a heart of gold and an insatiable curiosity for the unknown. He may be small in size, but he's big in personality, always eager to make new friends and discover new worlds. His misadventures in space are both humorous and heartwarming, making him a delightful companion for your chats.
These stickers are perfect for expressing a wide range of emotions. Feeling happy? Send a sticker of Kuroro gleefully floating in space with his arms wide open. Feeling sad? Send a sticker of Kuroro shedding a tear as he bids farewell to a newfound alien friend. These stickers are versatile and can be used in various situations, making them a great addition to your sticker collection.
One of the best things about Kuroro: Space Adventure Daily stickers is that they have no expiration date. Once you purchase them, they are yours to keep and use as long as you want. You don't have to worry about them disappearing from your sticker collection or losing access to them after a certain period of time. It's a one-time purchase that brings endless joy and fun to your chats for years to come.
The publisher of these stickers, MEMES Creative Partnership Co., Ltd., has done a fantastic job in creating a sticker set that is both adorable and captivating. The illustrations of Kuroro and his space adventures are detailed, colorful, and full of life, making these stickers a visual treat for your chats. The attention to detail and the creative design of each sticker make them truly special and a standout choice for adding some flair to your LINE and Whatsapp conversations.
In addition to their cuteness and versatility, these stickers also offer a unique opportunity to learn Mandarin. As they are in Mandarin language, they provide a fun and interactive way to practice your language skills while having a blast with Kuroro's space adventures. Whether you're a beginner or an advanced learner of Mandarin, these stickers can be a fun and engaging way to improve your language proficiency.
Kuroro: Space Adventure Daily stickers are a must-have for all space enthusiasts, fans of cute characters, and those who love to add some fun to their chats. With their lovable protagonist, vibrant illustrations, no expiration date, and language learning potential, these stickers are worth every coin. So hop aboard Kuroro's spaceship and embark on a galactic adventure with these adorable and captivating stickers. Get ready to explore the unknown and make your chats more exciting with Kuroro: Space Adventure Daily!