LINE Shopping x Panda's Homestead brings you free sticker set now available! Stickers are essential for socializing in today's society, and these 16 must-have phrases are perfect for both work and leisure! Complete the designated mission in the LINE Shopping app and add the LINE Shopping official account as a friend to obtain this sticker set.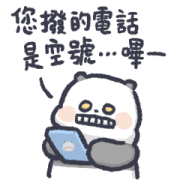 Title : LINE Shopping × Benwanpanda
Price : Free
Type : Static
Expiry Date : Available until June 27, 2023.
Language : Mandarin
Link : line://shop/detail/28632
https://www.line-stickers.com
–
LINE Shopping × Benwanpanda LINE Stickers
: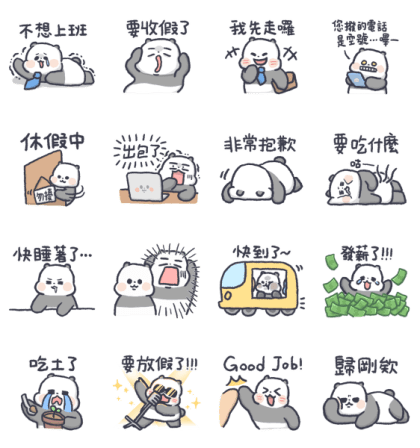 Hey there, sticker enthusiasts! Are you ready to take your chats to the next level of cuteness and hilarity? Well, buckle up because LINE Shopping and Benwanpanda have joined forces to bring you an adorable sticker collection that will leave you grinning from ear to ear!
Get ready to meet the LINE Shopping × Benwanpanda sticker collaboration. And guess what? They won't cost you a dime! That's right, folks. These static stickers are absolutely free, so you can go crazy and spam your friends with cuteness without worrying about breaking the bank.
So, what's the scoop on these stickers? Well, imagine expressing your feelings through adorable pandas with various expressions and gestures. Whether you're feeling happy, sad, excited, or just plain silly, these stickers have got you covered. From a panda blowing kisses to one rolling on the floor laughing, there's a sticker for every mood and situation.
Now, let's talk about the language. This sticker collection is Mandarin-based, which means you'll get a dose of adorable pandas combined with the charm of the Mandarin language. Even if you're not a Mandarin expert, fear not! The expressive visuals of these stickers will transcend any language barrier, and your friends will definitely get the message—cuteness overload!
But wait, there's more! These stickers are only available until June 27, 2023. So mark your calendars, set a reminder, or stick a note on your forehead—do whatever it takes to ensure you don't miss out on these lovable pandas. Trust me, they're worth it!
To get your paws on these delightful stickers, simply follow the link line://shop/detail/28632. It will lead you straight to the LINE Shopping page, where you can download them with a few quick clicks. It's super easy, even for those who struggle with technology (we all know someone like that, right?).
Kudos to LINE Shopping and Benwanpanda for creating this delightful sticker collaboration. They've successfully combined the cuteness of pandas with the convenience of online shopping. Who knew pandas could be so tech-savvy? It's a match made in sticker heaven!
Before I wrap up, let me remind you one more time: these stickers are available for a limited time only. So don't wait until the last minute. Grab your phones, open LINE Shopping, and start downloading these adorable pandas before they disappear into the digital wilderness forever.
Now, it's time to spread the joy and make your chats bear-iffic with the LINE Shopping x Benwanpanda sticker collection. Trust me, your friends will thank you for the smiles and giggles. So go ahead, express yourself in the most adorable way possible, and let the panda frenzy begin!
Happy sticker hunting, everyone!