This set is full of stickers that will make people happy. Snoopy brings you stickers full of praise! Let the adorable Snoopy and his friends cuddle up close and make you feel all warm and fuzzy inside.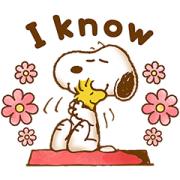 Title : Lovely Snoopy Stickers
Type : Static
Expiry Date : No Expiration Date
Link :
line://shop/detail/28316 JP
line://shop/detail/28317 ALL
line://shop/detail/28318 TW HK CH
https://www.line-stickers.com
–
Lovely Snoopy Stickers LINE Stickers
:

If you're a fan of Snoopy and his friends, you'll love the "Lovely Snoopy Stickers" for LINE and WhatsApp. These adorable static stickers are perfect for expressing your emotions and adding some fun to your conversations. There's an adorable sticker collection that is sure to bring smiles and warmth to your chats: Lovely Snoopy Stickers.
Developed by TV TOKYO Communications Corporation in collaboration with SNOOPY, the Lovely Snoopy Stickers collection offers a delightful selection of static stickers featuring everyone's favorite beagle, Snoopy. Priced at 100 Coins, this paid collection is a small price to pay for the sheer cuteness and joy it brings to your conversations.
The Lovely Snoopy Stickers collection captures the lovable charm and iconic style of Snoopy and his friends from the beloved Peanuts comic strip. Each sticker portrays Snoopy in various endearing poses and situations, guaranteed to evoke feelings of happiness and nostalgia. From Snoopy's famous dance to his playful interactions with Woodstock, these stickers bring the beloved characters to life in your chats.
What makes the Lovely Snoopy Stickers collection even more appealing is its language availability. The stickers are not limited to a single language but cater to a wider audience. Whether you prefer English, Japanese, or Mandarin, there's a sticker pack available for you. This inclusivity allows users from different backgrounds to enjoy the delightful world of Snoopy and share their love for the character with friends and family.
To access the Lovely Snoopy Stickers, simply visit the official LINE store and follow the links provided. Depending on your region or language preference, you can choose the appropriate link:
Once you've downloaded the stickers, they become a permanent part of your sticker library with no expiration date. This means you can use them in your chats anytime, spreading cuteness and joy to your conversations without any time constraints.
TV TOKYO Communications Corporation and SNOOPY have put great care and attention into the Lovely Snoopy Stickers collection, ensuring that each sticker embodies the charm and essence of the Peanuts characters. The vibrant colors, expressive designs, and attention to detail make these stickers truly delightful and a must-have for Snoopy fans and sticker enthusiasts alike.
It's important to note that the Lovely Snoopy Stickers collection is officially licensed and copyright protected by Peanuts Worldwide LLC. This ensures the authenticity and quality of the stickers, allowing users to enjoy Snoopy's lovable presence with peace of mind.
Lovely Snoopy Stickers collection is a heartwarming addition to the world of LINE and WhatsApp stickers. With their cute and endearing designs, these stickers bring Snoopy and his friends to life, spreading joy and nostalgia in your digital conversations. So why not add a touch of Snoopy's charm to your chats and let the Lovely Snoopy Stickers make your messages even more delightful?