The popular health snack "OH! Osacana" is now a LINE sticker! If you make friends with the Tamachan Shop official account, you will get it on a first-come, first-served basis ♪

https://www.line-stickers.com
–
OH!Osacana Original Stickers LINE Stickers
: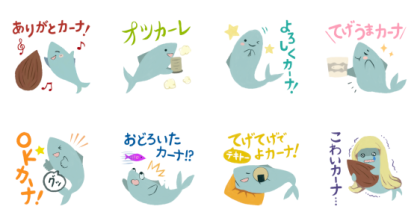 Get ready for some cute and quirky fun with the OH! Osacana Original sticker set! These stickers feature the lovable and whimsical characters from the popular Japanese animated series, Osacana.
With over 40 unique stickers to choose from, you can express a wide range of emotions and reactions with ease. From happy faces to silly expressions, the OH! Osacana Original sticker set has got you covered. The characters are drawn in a charming and distinctive style that is sure to make you smile every time you use them.
Whether you want to send a message of love, cheer someone up, or simply add a touch of fun to your chat, these stickers are perfect for any occasion. You can use them to express your thoughts and feelings, or just to liven up your conversations with friends and family.
So why not add a little bit of whimsy to your messaging experience with the OH! Osacana Original sticker set? It's a great way to bring a smile to someone's face and show them that you care. These stickers are sure to become a staple in your messaging routine and you'll love using them again and again.