Over 4.2 million issues sold! The smash hit manga series gets its own official sticker set! This set features original character sketches by Ichigo Takano to add a touch of cute to your chats!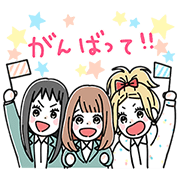 Publisher : FUTABASHA PUBLISHER LTD.
Copyright : Takano Ichigo / FUTABASHA
https://www.line-stickers.com
–
Orange: Cutey Stickers LINE Stickers
:

Looking for some adorable stickers to brighten up your chats? Look no further than the Orange: Cutey Stickers!
If you're looking to add some cuteness and charm to your LINE and Whatsapp chats, look no further than Orange: Cutey Stickers! These delightful stickers are sure to bring a smile to your face with their adorable illustrations and playful expressions. Let's dive into what makes Orange: Cutey Stickers so special!
These stickers feature the lovable character Orange, brought to life by the talented illustrator Takano Ichigo and published by FUTABASHA PUBLISHER LTD. Orange is a cute and mischievous character with an irresistible charm that will capture your heart. With his expressive eyes, rosy cheeks, and playful poses, Orange is the perfect companion for expressing a wide range of emotions in your chats.
One of the best things about Orange: Cutey Stickers is that they have no expiration date. Once you purchase them, they are yours to keep and use as long as you want. You don't have to worry about them disappearing from your sticker collection or losing access to them after a certain period of time. It's a one-time purchase that brings endless cuteness and fun to your chats for years to come.
These static stickers are perfect for adding some sweetness to your chats. Whether you're expressing love, happiness, excitement, or any other emotion, Orange: Cutey Stickers have you covered. Send a sticker of Orange blowing a kiss to convey your affection, or send a sticker of Orange jumping with joy to express your excitement. These stickers are versatile and can be used in various situations, making them a great addition to your sticker collection.
The illustrations of Orange are detailed, colorful, and full of charm, making these stickers a visual delight for your chats. Takano Ichigo's talent and creativity shine through in each sticker, creating a cohesive and adorable set that is sure to make your chats more enjoyable. The attention to detail and the cute design of each sticker make them truly special and a standout choice for adding some cuteness to your LINE and Whatsapp conversations.
In addition to their adorable design, these stickers also offer a unique opportunity to learn Japanese. As they are in Japanese language, they provide a fun and interactive way to practice your language skills while expressing yourself in chats. Whether you're a beginner or an advanced learner of Japanese, these stickers can be a fun and engaging way to improve your language proficiency.
The copyright of Orange: Cutey Stickers is held by Takano Ichigo and FUTABASHA, ensuring that you're getting an authentic and officially licensed product. FUTABASHA is a renowned publisher known for its commitment to creating high-quality and beloved characters. By using these stickers, you're supporting the creativity and craftsmanship of Takano Ichigo and FUTABASHA, and contributing to the continued success of Orange.
Orange: Cutey Stickers are a must-have for all fans of adorable characters, Japanese culture, and spreading sweetness in their chats. With their lovable protagonist, high-quality illustrations, no expiration date, and language learning potential, these stickers are worth every coin. So get ready to share some cuteness and add some charm to your LINE and Whatsapp conversations with Orange: Cutey Stickers!