The popular aliens from the Toy Story movies star in a comical and cute set of stickers. These aliens will bring your chats to another world!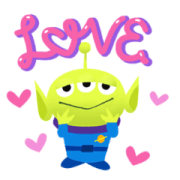 Title : Pastel Pop Aliens
Type : Animation
Expiry Date : No Expiration Date
Link :
line://shop/detail/28373 JP
line://shop/detail/28374 ALL
https://www.line-stickers.com
–
Pastel Pop Aliens LINE Stickers
: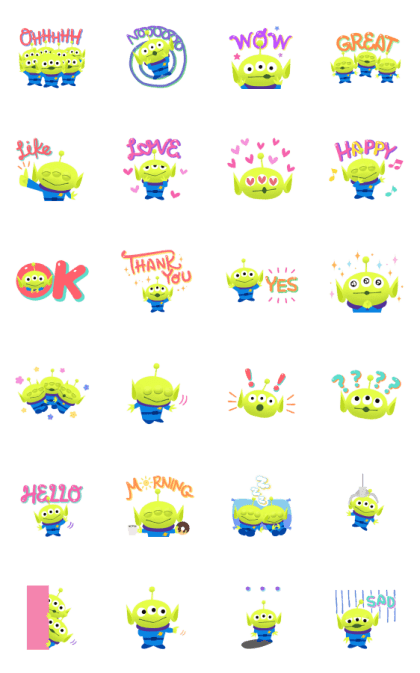 If you're a fan of Pixar's Toy Story franchise, you'll love the latest addition to the LINE sticker shop: the Pastel Pop Aliens! These cute and quirky creatures have been a fan favorite since their introduction in the first Toy Story film, and now they can be a part of your daily chats on LINE and WhatsApp.
Developed by The Walt Disney Company (Japan) Ltd., the Pastel Pop Aliens collection brings the lovable aliens from the beloved Toy Story franchise to life with captivating animations. Priced at 100 Coins, this paid collection is a small investment for the animated delights it brings to your conversations.
The Pastel Pop Aliens collection takes sticker communication to new heights with its lively animations. Each sticker showcases the adorable and curious aliens in delightful scenarios, showcasing their playful nature and childlike wonder. From their signature three-eyed gaze to their cheerful dances, these animated stickers are sure to bring joy and laughter to your chats.
What makes the Pastel Pop Aliens collection even more delightful is its language availability. The stickers are designed for global enjoyment, offering language options in English and Japanese. This inclusivity allows users from different language backgrounds to express their love for the Toy Story franchise and share their excitement with friends and family.
To access the Pastel Pop Aliens stickers, simply visit the official LINE store and follow the links provided.
Once you've downloaded the stickers, they become a permanent part of your sticker library with no expiration date. This means you can use them in your chats anytime, adding a touch of animated magic to your conversations without any time constraints.
The Walt Disney Company (Japan) Ltd. has put great care and attention into creating the Pastel Pop Aliens collection, ensuring that each animated sticker captures the endearing charm of the Toy Story aliens. The vibrant colors, fluid animations, and attention to detail make these stickers a visual treat and a must-have for Toy Story fans and sticker enthusiasts alike.
It's important to note that the Pastel Pop Aliens sticker collection is officially licensed and copyright protected by Disney / PIXAR. This guarantees the authenticity and quality of the stickers, allowing users to enjoy the delightful presence of the Toy Story aliens with confidence.
Pastel Pop Aliens sticker collection is a delightful addition to the world of LINE and WhatsApp stickers. With their captivating animations and lovable characters, these stickers transport you to the playful world of Toy Story and add an extra dose of magic to your digital conversations. So why not let the Pastel Pop Aliens make your chats even more animated and enjoyable?