Piggy MengMeng and his girlfriend Piggy MeiMei stickers are coming for you!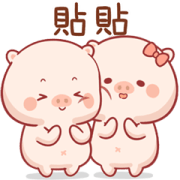 Publisher : J.X.H
Copyright : J.X.H
https://www.line-stickers.com
–
PiggyMengMeng 4 LINE Stickers
: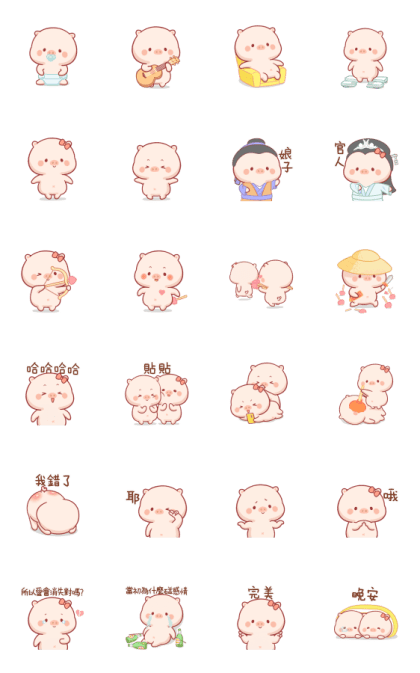 Oink-tastic Fun with Piggy MengMeng 4 Sticker Chat!
Get ready to embark on a playful and adorable journey with Piggy MengMeng 4 sticker chat! These cute and cheerful stickers are here to add a dose of cuteness and fun to your conversations without any need for downloads or installations. With their lovable piggy characters and humorous expressions, Piggy MengMeng 4 stickers are perfect for bringing a smile to your face and brightening up your chats in a pig-tastic way!
Piggy MengMeng 4 sticker chat features a collection of delightful stickers that showcase the mischievous adventures of the adorable piggy characters. From Piggy MengMeng's silly antics to his playful interactions with his friends, these stickers capture the playful and humorous nature of these lovable piggies. Whether you're expressing your emotions, sharing a funny moment, or simply looking to add a touch of cuteness to your messages, these stickers are sure to do the trick.
Created by J.X.H, this officially licensed sticker set is now available for purchase at just 100 Coins, and with no expiration date, you can enjoy these delightful stickers for as long as you want.
The PiggyMengMeng 4 sticker set features a lovable pig character named MengMeng, who is known for his playful antics and cute expressions. With a wide range of animated stickers, MengMeng is ready to bring life to your chats in a fun and adorable way. From happy dances to silly faces, MengMeng's expressions are sure to put a smile on your face and brighten up your conversations with friends and family.
One of the best things about Piggy MengMeng 4 stickers is their versatility. With a wide range of expressions and emotions, these stickers can be used in various contexts to convey different moods and feelings. From happy and excited to sad and confused, these stickers offer a diverse set of emotions that can be easily incorporated into your chats to express yourself in a fun and playful way.
The animations in the PiggyMengMeng 4 sticker set are carefully designed to capture the unique personality of MengMeng. With his chubby cheeks, rosy cheeks, and expressive eyes, MengMeng is full of charm and brings a sense of warmth and joy to your chats. Whether you're celebrating a special occasion, expressing your emotions, or simply want to add a dose of cuteness to your chats, these animated stickers have got you covered.
One of the great things about the PiggyMengMeng 4 sticker set is its language option. Available in Mandarin, these stickers are perfect for Chinese-speaking users or anyone who wants to add a touch of Chinese culture to their chats. The cute animations and playful expressions are designed to resonate with Mandarin-speaking audiences, making them a perfect fit for users who communicate in this language.
As for the copyright, you can trust that the PiggyMengMeng 4 sticker set is fully copyrighted by J.X.H, the publisher of these adorable stickers. This ensures that you are using original and officially licensed content in your chats, supporting the creators and enjoying high-quality stickers that are designed with care.
To purchase the PiggyMengMeng 4 sticker set, simply follow the link to the LINE store and make your purchase with 100 Coins. Once you've made your purchase, the stickers will be instantly available in your LINE and Whatsapp chats. Simply select the PiggyMengMeng 4 stickers from your sticker collection and let MengMeng's playful expressions do the talking in your chats!
The PiggyMengMeng 4 sticker set is a delightful addition to your LINE and Whatsapp chats. With its adorable animations, Mandarin language option, and no expiration date, these stickers are perfect for adding a touch of fun and playfulness to your conversations. So why wait? Grab the PiggyMengMeng 4 sticker set today and let MengMeng bring joy and laughter to your chats!