Look! How soft, like cotton candy! They're so cute that they're dangerous! Meet the lovey-dovey bunny couple who always stick together, Ppoya & PpoPpo. How exciting it would be to be with these cuties! Join them for a very pleasant conversation! Have fun!

Publisher : CHICAT
Copyright : CHICAT
https://www.line-stickers.com
–
So Cute! Bunny Couple Ppoya & PpoPpo LINE Stickers
: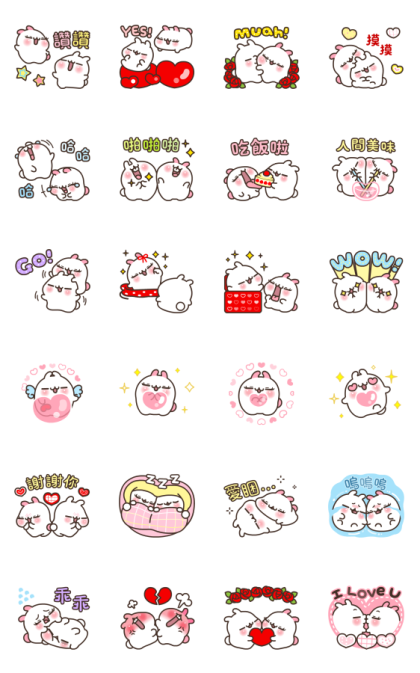 If you're a fan of cute and cuddly bunnies, then you're going to love the Bunny Couple Ppoya & PpoPpo sticker set! This adorable sticker set features two lovable bunnies, Ppoya and PpoPpo, who are the best of friends and love to do everything together.
From sharing a delicious carrot cake to cuddling up together under a cozy blanket, these bunnies know how to have a good time. With their sweet expressions and playful antics, Ppoya and PpoPpo are sure to bring a smile to your face and brighten up your chats.
The Bunny Couple Ppoya & PpoPpo sticker set is perfect for anyone who loves cute and cuddly animals, or who just wants to add some extra sweetness to their messages. Whether you're sending a message to a loved one, chatting with friends, or just expressing yourself, these stickers are the perfect way to do it.
So why not download the Bunny Couple Ppoya & PpoPpo sticker set today and start spreading some joy and cuteness to everyone you know? With these lovable bunnies by your side, you're sure to have a hoppy day!