Do you want a little sweet with your cuteness? This sticker set starring the Sanrio characters has you covered!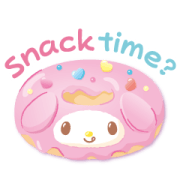 Publisher : SANRIO
Copyright : SANRIO
https://www.line-stickers.com
–
Sweet Sanrio characters LINE Stickers
:

Hey there, fellow LINE and WhatsApp enthusiasts! Tired of using the same old emojis and stickers in your chats? Well, hold onto your hats because we've got some seriously sweet news for you! SANRIO, the masterminds behind those adorable characters we all know and love, have just released a brand new collection of stickers that will have you LOLing in no time. Get ready to add a whole new level of cuteness to your conversations!
Now, before we dive into the details, let's address the elephant in the room: these stickers aren't free. They'll cost you a modest 100 coins, but trust me when I say they're worth every shiny penny. Once you feast your eyes on these charming characters, you won't even think twice about parting ways with your precious coins.
So, what kind of characters are we talking about here? Oh, just the iconic ones like Hello Kitty, My Melody, and Little Twin Stars, to name a few. These little guys and gals come in a variety of poses and expressions that are simply too cute to handle. The attention to detail is mind-blowing, capturing the essence of every emotion you could possibly want to convey.
But wait, it gets even better! This collection of stickers is available in multiple languages, including English, Mandarin, Thai, and Japanese. No matter where you're from or what language you prefer, these stickers have got you covered. It's like a universal cuteness language that brings people together, one adorable sticker at a time.
Now, here's the best part: these stickers have no expiration date. That's right, folks! You can use them to your heart's content, anytime you want, without worrying about them vanishing into thin air. It's a lifetime supply of adorableness at your fingertips!
So, how do you get your hands on these delightful treasures? Simple! Just click on one of the links below, based on your preferred language or region:
line://shop/detail/28752 ALL
line://shop/detail/28751 TH
line://shop/detail/28750 TW HK CH
line://shop/detail/28749 JP
Remember, these stickers are brought to you by the one and only SANRIO. They're the geniuses behind the magic, and they hold all the copyrights. So, let's give credit where credit is due and shower SANRIO with our gratitude for gracing our chats with such cuteness!
Alright, folks, it's time to level up your chat game with these sweet Sanrio stickers. Don't miss out on the chance to brighten up your conversations and bring smiles to the faces of your friends and family. Click that link, grab those stickers, and let the cuteness extravaganza begin!
That's a wrap, folks! We hope this article brought a little laughter and joy to your day. Thank you for reading, and may these Sanrio stickers infuse your chats with an extra dose of hilarity and adorableness. Until next time, happy sticker-ing!