Cool Bunny Happy New Year is here!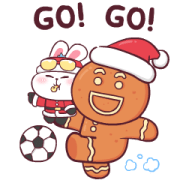 https://www.line-stickers.com
–
Cool Bunny Happy New Year LINE Stickers
:
Are you ready to kick off the New Year with a bang? Look no further! "Cool Bunny Happy New Year" stickers are here to add some festive flair to your chats on LINE and WhatsApp. Created by MJ_Cartoon, these stickers are the perfect way to add a touch of excitement and joy as you ring in the New Year. With their unique pop-up design and delightful sound effects, these stickers are a must-have for anyone who wants to add some extra fun to their New Year's greetings!
These lively stickers are available for purchase at a price of 85 Coins, making them a paid option. However, the interactive features and vibrant design of these stickers make them worth every coin for those looking to make their New Year wishes stand out. You can easily purchase "Cool Bunny Happy New Year" stickers from the official MJ_Cartoon store on LINE by following the link.
One of the standout features of these stickers is their pop-up design. When you send these stickers in your chats, they come to life with a three-dimensional effect, creating a visually stunning and engaging experience. The pop-up design adds a sense of excitement and surprise, making these stickers perfect for expressing your anticipation for the New Year and spreading the joy of the festive season. Your friends and loved ones will be thrilled to receive such a dynamic and eye-catching sticker in their chats!
In addition to their pop-up design, "Cool Bunny Happy New Year" stickers also come with sound effects that add an extra layer of fun and interactivity to your chats. These stickers play a cheerful sound when sent, enhancing the celebratory atmosphere and bringing your New Year's greetings to life. The sound effects are carefully crafted to match the theme of the stickers, creating a harmonious and immersive experience that will delight anyone who receives these stickers in their chats. Get ready to add a dose of fun and excitement to your New Year wishes with these lively sound effects!
"Cool Bunny Happy New Year" stickers are exclusively available in Thai language, making them a perfect choice for those who want to celebrate the New Year with their friends and loved ones in Thailand or anyone who wants to show off their Thai language skills. The stickers feature fun and festive phrases in Thai language, such as "สวัสดีปีใหม่" (Happy New Year) and "ขอให้มีความสุขทุกวัน" (Wishing you happiness every day), allowing you to send your New Year's wishes in an authentic and meaningful way. Your Thai-speaking friends will be thrilled to receive such a personalized and thoughtful greeting in their chats!
These stickers are published by MJ_Cartoon, a trusted and reputable publisher on LINE. This ensures that you are getting high-quality stickers that are officially licensed and approved. The stickers are also protected by copyright, making them exclusive to MJ_Cartoon and adding a touch of uniqueness to your chats. You can trust the quality and authenticity of these stickers as you share your New Year's wishes with your friends and family.
The best part? "Cool Bunny Happy New Year" stickers have no expiration date, which means you can use them in your chats for as long as you like without worrying about them disappearing. This makes them a great investment for anyone who wants to continue using these festive stickers in their chats throughout the year or in future New Year celebrations. You can keep spreading the New Year cheer with these lively stickers for as long as you want!
To add "Cool Bunny Happy New Year" stickers to your LINE and WhatsApp chats, simply follow the link to the official MJ_Cartoon store and make your purchase. With its cute animations, vibrant designs, and customization features, these stickers are sure to bring a festive and joyful atmosphere to your chats. So why wait? Let Cool Bunny join your New Year's celebrations and spread the cheer with its playful animations! Get ready to welcome the New Year in style with Cool Bunny Happy New Year Sticker Chat and make your chats more lively and enjoyable!