Hangyodon is more expressive than ever! These stickers provide you with a Hangyodon reaction for every situation.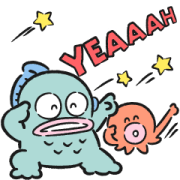 Title : Hangyodon Reacts
Type : Static
Expiry Date : No Expiration Date
Link :
line://shop/detail/28436 ALL
line://shop/detail/28433 JP
line://shop/detail/28434 TW HK CH
Publisher : SANRIO
Copyright : SANRIO
https://www.line-stickers.com
–
Hangyodon Reacts LINE Stickers
:

When it comes to sticker collections, one cannot overlook the adorable and versatile Hangyodon Reacts stickers available for LINE and WhatsApp. Developed by SANRIO, these stickers have taken the messaging world by storm, capturing the hearts of users around the globe.
If you're a fan of cute and quirky characters, Hangyodon Reacts is the sticker pack for you. Featuring the lovable and mischievous Hangyodon, these stickers bring a fresh and playful vibe to your conversations. Whether you want to express joy, surprise, love, or even frustration, Hangyodon has got you covered with a range of expressive stickers.
One of the standout features of Hangyodon Reacts is its versatility. With stickers available in multiple languages, including English, Japanese, and Mandarin, users from different cultural backgrounds can enjoy the delightful reactions of Hangyodon. This inclusivity makes the stickers more accessible and allows people to connect and communicate with friends and loved ones across borders.
The sticker pack includes a wide array of emotions, ensuring that there's a sticker for every occasion. From the excitement of receiving good news to the support you want to show during tough times, Hangyodon Reacts offers a diverse range of expressions. You can find stickers depicting Hangyodon's adorable happy dances, funny faces, heartfelt gestures, and even relatable moments that will make you laugh out loud.
SANRIO has always been known for its exceptional attention to detail, and Hangyodon Reacts is no exception. The stickers are beautifully designed with vibrant colors and charming illustrations that capture the essence of Hangyodon's playful personality. Each sticker is carefully crafted to evoke a specific emotion, ensuring that you can find the perfect one to convey your feelings accurately.
To add these delightful stickers to your collection, you can easily find them in the LINE sticker shop or the WhatsApp sticker store. Hangyodon Reacts is available as a paid pack, priced at 100 Coins, but the joy and entertainment they bring are worth every penny. Once purchased, these stickers become a permanent addition to your library, with no expiration date to worry about.
With the rise of digital communication, messaging platforms like LINE and WhatsApp have become essential tools for staying connected. Adding a touch of personality to your chats with Hangyodon Reacts stickers elevates your conversations to a whole new level. Friends and family will surely appreciate the creativity and thoughtfulness you put into your messages.
Hangyodon Reacts stickers offer a delightful and expressive way to enhance your LINE and WhatsApp conversations. Created by SANRIO, these stickers showcase the lovable and mischievous Hangyodon in a variety of emotions and situations. With their availability in multiple languages and the charming design, they cater to users worldwide. So, why stick to plain text when you can bring your messages to life with Hangyodon Reacts? Get ready to spread smiles, laughter, and joy with these adorable stickers today!