The hugely popular "Let's Add Bears to Conversations" characters, Kuma-chan and Boo-boo-chan, make an appearance in the LINE Sukimani collaboration! Let's spice up our conversations with the trendy New Retro × Large Text style. You can receive them by becoming friends with the official LINE Skimani account!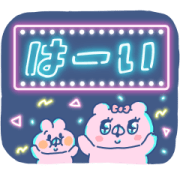 Title : Kaiwani Kumawo Soemashou×LINE Sukimani
Price : Free
Type : Static
Expiry Date : Available until June 28, 2023.
Language : Japanese
Link : line://shop/detail/28215
https://www.line-stickers.com
–
Kaiwani Kumawo Soemashou×LINE Sukimani LINE Stickers
: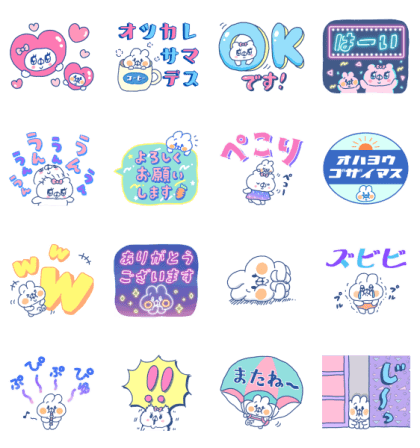 Hey there, sticker enthusiasts! Are you ready to level up your chat game with some hilarious stickers? Buckle up because Kaiwani Kumawo Soemashou and LINE Sukimani have teamed up to bring you a sticker collection that will have you LOL-ing in no time!
Introducing the Kaiwani Kumawo Soemashou × LINE Sukimani sticker collaboration, and guess what? They won't cost you a single yen! Yes, folks, these static stickers are absolutely free, so you can unleash your inner comedian without worrying about breaking the bank.
So, what's the scoop on these stickers? Prepare yourself for a dose of Japanese humor that will leave you in stitches. Picture this: quirky characters in hilarious situations, funny facial expressions, and witty catchphrases that will have you giggling uncontrollably. Whether you're expressing joy, surprise, or just plain silliness, these stickers have got you covered.
But wait, there's more! These stickers are available in Japanese, adding an extra layer of cultural humor to your chats. Even if you're not fluent in Japanese, fear not! Laughter is the universal language, and these stickers will have your friends chuckling along, no matter where they're from.
Now, here's the important part—these rib-tickling stickers will only be available until June 28, 2023. So, mark this date on your calendar with a big, bold, and comically exaggerated circle. You don't want to miss out on the laughter marathon that awaits you.
To get your hands on these hilarious stickers, simply follow the link line://shop/detail/28215. It will teleport you straight to the LINE Sukimani page, where you can download these comic gems with just a few clicks. It's easier than pulling off a knock-knock joke, and you'll have the punchlines ready to go in no time.
Let's give a round of applause to Kaiwani Kumawo Soemashou and LINE Sukimani for their genius collaboration. They've created a sticker collection that guarantees smiles, snickers, and full-blown belly laughs. Kudos to them for knowing exactly what tickles our funny bones!
Before I sign off, let me remind you once again—these stickers are available for a limited time only. So, don't delay! Whip out your devices, head over to LINE Sukimani, and get ready to unleash the hilarity of Kaiwani Kumawo Soemashou × LINE Sukimani stickers upon your unsuspecting friends.
It's time to bring the laughter to your chats with the Kaiwani Kumawo Soemashou × LINE Sukimani sticker collection. Spread the joy, brighten up your friends' days, and let the laughter echo through the digital realm. Get ready to be the chat comedy king or queen!
Happy chatting, everyone!