Mike from Monsters, Inc. is heading to work, and he's inviting you along with this sticker set. It doesn't take two eyes to see that Mike works hard!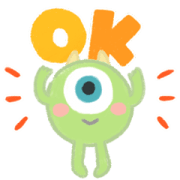 Title : Mike Goes to Work
Type : Animation
Expiry Date : No Expiration Date
Link :
line://shop/detail/28276 ALL
line://shop/detail/28275 JP
https://www.line-stickers.com
–
Mike Goes to Work LINE Stickers
: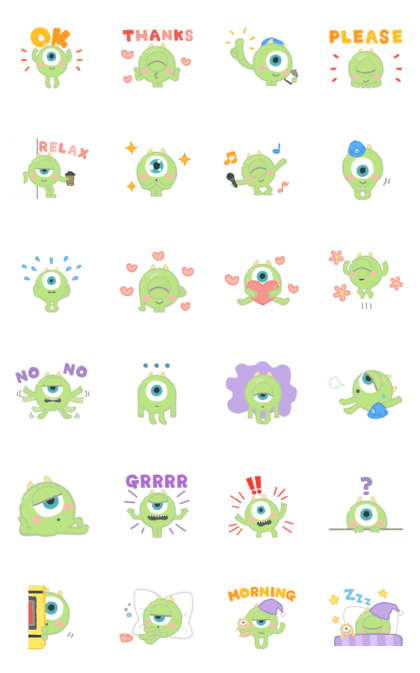 Hey there! Are you a fan of Monsters Inc.? Well, get ready to add some monster fun to your work chats with Mike Goes to Work Sticker Chat! This sticker pack features the lovable character of Mike Wazowski, and is the perfect way to add some humor and playfulness to your office conversations.
From funny expressions to classic Mike quotes, there's a sticker for every work-related mood and scenario. Whether you need a little motivation to get through the day or a laugh to brighten up a tough work situation, Mike Goes to Work Sticker Chat has got you covered.
This cute and playful sticker features the one-eyed green monster we all know and love, Mike Wazowski, with his signature smile and confident expression. But this time, he's not just hanging out in the monster world. He's all dressed up in his professional attire, ready to tackle whatever challenges come his way.
One of the best things about these stickers is how easy they are to use. Simply open up your chat app, select the Mike Goes to Work Sticker Chat pack, and start sending your favorites to your co-workers. You'll be surprised at how quickly your chats will become more lively and fun!
But the fun doesn't stop there. You can also use these stickers to decorate your work documents and presentations. Add a little Mike flair to your next project and make it stand out from the rest.
With the Mike Goes to Work sticker, you can show off your love for Monsters Inc. while also adding a touch of whimsy to your daily routine. Stick it on your laptop, water bottle, or even your car, and let everyone know that you're ready to take on whatever the workday throws at you, just like Mike.
And the best part? Mike Goes to Work Sticker Chat is constantly updating their sticker pack with new designs, so you'll never run out of fun and creative stickers to use.
So why settle for boring old work chats when you can add some monster fun with Mike Goes to Work Sticker Chat? Get your colleagues in on the fun and start using these stickers today!