Munkaew, animated cat version 8—It's a bad boy cat.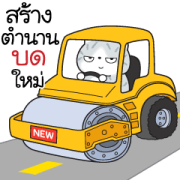 Publisher : Teenoi
Copyright : Teenoi
https://www.line-stickers.com
–
Munkaew Funny Cat V.8 LINE Stickers
: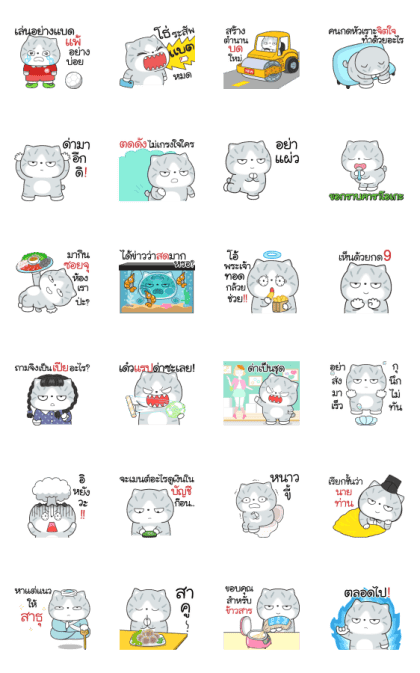 If you're a cat lover and enjoy sharing cute and funny stickers in your chats, then "Munkaew Funny Cat V.8" stickers are perfect for you! Created by Teenoi, these animated and sound stickers are packed with hilarity and are sure to bring a smile to your face. With their playful Thai language, these stickers are a unique and entertaining addition to your chats on LINE and WhatsApp!
Priced at 85 Coins, "Munkaew Funny Cat V.8" stickers are a paid option. But trust us, they are worth every coin if you're looking to add a dose of laughter to your conversations. You can easily purchase these stickers from the official LINE store by following the link.
One of the standout features of these stickers is their animation and sound type. These stickers come to life with their dynamic animations and cute sound effects. From mischievous cats playing pranks to adorable felines expressing various emotions, these stickers are sure to make your chats more lively and fun. The combination of animation and sound adds an extra layer of humor and entertainment to your conversations, making them truly unique and enjoyable.
The Thai language used in these stickers adds a local touch to your chats. If you're a fan of Thai culture or have Thai-speaking friends, these stickers are a perfect choice to add a personalized touch to your conversations. The witty phrases in Thai such as "สวัสดี" (Hello), "ขอบคุณ" (Thank you), and "555+" (Thai internet slang for laughing), will surely make your chats more fun and authentic. These stickers are a great way to express yourself in a playful and localized manner, creating memorable chats with your friends and loved ones.
These stickers are published by Teenoi, a well-known publisher on LINE, ensuring that you're getting high-quality stickers that are officially licensed and approved. The stickers are also protected by copyright, making them exclusive to Teenoi and adding a touch of uniqueness to your chats. You can trust the quality and authenticity of these stickers as you enjoy the hilarious animations and sound effects in your chats.
The best part? "Munkaew Funny Cat V.8" stickers have no expiration date, which means you can use them in your chats for as long as you like without worrying about them disappearing. This makes them a great investment for anyone who wants to continue using these funny stickers to bring laughter to their chats indefinitely. You can keep sending "Munkaew Funny Cat V.8" stickers to your friends, family, and colleagues to share the joy and laughter.
To add "Munkaew Funny Cat V.8" stickers to your LINE and WhatsApp chats, simply follow the link to the official LINE store and make your purchase. Once you've purchased these stickers, you can easily access them in your sticker library and start sending them to your contacts to spread the laughter.
"Munkaew Funny Cat V.8" stickers are the perfect choice for cat lovers and anyone who wants to add a dose of humor to their LINE and WhatsApp chats. With their animated and sound type, Thai language, and no expiration date, these stickers are a hilarious and entertaining addition to your chats and a surefire way to make your conversations more enjoyable and memorable. So, get ready to laugh out loud with "Munkaew Funny Cat V.8" stickers and share the joy with your friends!