Introducing the collaboration stickers of the popular characters "Mofu Piyo" and the original character Omochi-chan from Domo Horn Wrinkle! With 16 animated stickers, your conversations are guaranteed to be lively! You can receive them by becoming friends with the official Domo Horn Wrinkle account.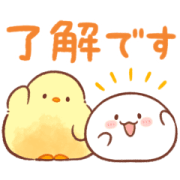 Title : Soft and cute chick× Omochi-chan
Price : Free
Type : Animation
Expiry Date : Available until June 5, 2023.
Language : Japanese
Link : line://shop/detail/28356
https://www.line-stickers.com
–
Soft and cute chick× Omochi-chan LINE Stickers
: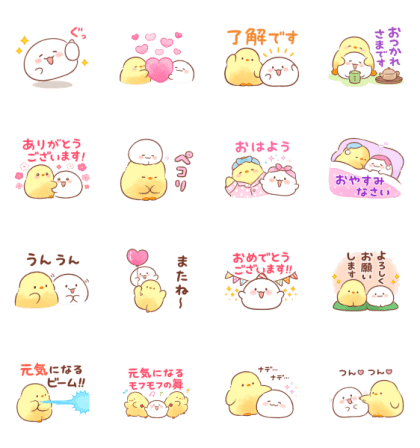 Prepare to be charmed by the delightful world of Soft and Cute Chick × Omochi-chan stickers! Created by Saishunkan Co., Ltd. in collaboration with sanpoimo and Anova, these animated stickers are here to bring joy, warmth, and a hefty dose of cuteness to your chats. Available for free download, this sticker pack is a must-have for anyone who appreciates adorable characters and heartwarming animations.
The Soft and Cute Chick × Omochi-chan sticker pack features a lovable cast of characters, including soft and fluffy chicks and their charming friend Omochi-chan. Each animated sticker brings these adorable characters to life, showcasing their playful antics, heartwarming expressions, and endearing gestures. From cheerful hopping to cozy snuggles, these stickers are guaranteed to bring a smile to your face and spread positivity in your conversations.
One of the highlights of this sticker pack is its authentic Japanese charm. Created by DomohornWrinkle, a well-known publisher, these stickers capture the essence of kawaii culture and Japanese aesthetics. The soft and cute design of the chicks and Omochi-chan is irresistible, and their animations are sure to melt your heart. They are the perfect companions for expressing a wide range of emotions, from happiness and excitement to love and gratitude.
If you have an affinity for the Japanese language or simply enjoy immersing yourself in different cultures, you'll be delighted to know that the Soft and Cute Chick × Omochi-chan sticker pack is available in Japanese. It's an excellent opportunity to embrace the beauty of the language, learn new expressions, and immerse yourself in the world of kawaii. These stickers serve as a delightful way to connect with fellow Japanese language enthusiasts and spread the cuteness to friends near and far.
Make sure to mark your calendars because these adorable stickers will be available for download until June 5, 2023. Don't miss out on the opportunity to bring the charm of Soft and Cute Chick × Omochi-chan to your chats. To download the sticker pack, simply visit the following link: line://shop/detail/28356. Whether you're an avid LINE user or prefer other messaging platforms, these stickers are compatible with various apps, ensuring that you can enjoy their heartwarming animations and share them with friends and loved ones.
The collaboration between Saishunkan Co., Ltd., sanpoimo, and Anova has brought together the perfect combination of cuteness, animation, and Japanese charm. These stickers celebrate the joy of adorable characters and heartwarming interactions, reminding us of the simple pleasures that bring happiness to our lives. They serve as a reminder to cherish the little moments and to share love and warmth through digital communication.
Soft and Cute Chick × Omochi-chan sticker pack is a must-have for anyone who adores adorable characters, heartwarming animations, and the beauty of Japanese culture. With their irresistible charm and authentic kawaii design, these stickers will bring smiles, warm hearts, and spread cuteness in every chat. So, don't wait any longer—download the sticker pack today and let the soft and cute chicks and Omochi-chan brighten up your conversations. Enjoy the cuddles and the cuteness overload!