Let's have a water fight!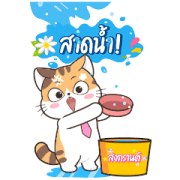 https://www.line-stickers.com
–
Soidow Songkran LINE Stickers
: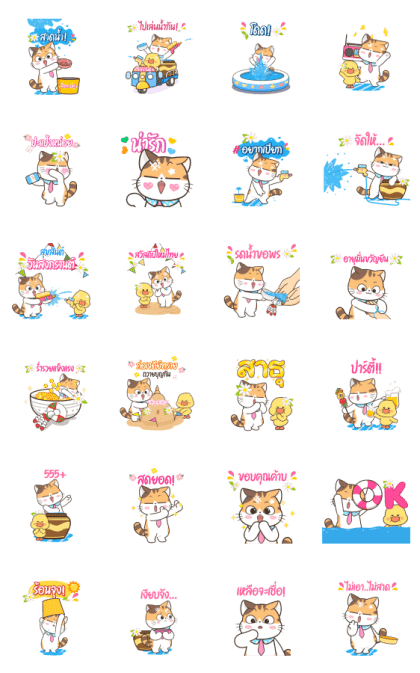 Are you looking for a fun and unique way to celebrate Songkran, the traditional Thai New Year? Look no further than the Soidow Songkran sticker, created by MJ_Cartoon and available for purchase on LINE and Whatsapp! These vibrant pop-up effects will bring the festive spirit of Songkran to your chats in a lively and engaging way.
Step into the joyous celebration of Songkran, the Thai New Year, with the Soidow Songkran sticker pack. This sticker collection features lively and colorful pop-up effects that capture the essence of the festivities. From splashing water to traditional Thai greetings, Soidow Songkran will add an extra dose of excitement to your Thai language conversations.
What sets Soidow Songkran apart is its dynamic pop-up effects. Each sticker comes to life with vibrant animations that depict the traditional elements of Songkran. You can immerse yourself in the water fights, enjoy the beauty of Thai culture, and share the joy of the New Year with your friends and loved ones.
The sticker pack offers a diverse range of pop-up effects, allowing you to express the spirit of Songkran in various ways. From cheerful water splashes to festive decorations, these stickers are perfect for conveying your excitement and best wishes during this special time. Let the vibrant visuals and animations of Soidow Songkran create a festive atmosphere within your chats.
Designed specifically for Thai language chats, Soidow Songkran enables you to connect with your friends and loved ones in a way that feels authentic and culturally significant. These stickers reflect the traditions and values of Thai New Year, making your conversations more meaningful and memorable.
MJ_Cartoon, the publisher behind Soidow Songkran, pays great attention to detail and creates visually captivating stickers. The colors are vibrant, the animations are lively, and the cultural elements are beautifully represented. These stickers not only enhance your chats but also showcase the rich heritage and traditions of Thai culture.
To add Soidow Songkran to your sticker collection, simply visit the provided link in the LINE sticker shop. The sticker pack is available for purchase at a price of 85 Coins. Once acquired, these stickers become a permanent part of your library, with no expiration date to worry about. You can enjoy using them to celebrate Songkran and infuse your conversations with the festive spirit indefinitely.
In conclusion, Soidow Songkran is a vibrant sticker pack that allows you to celebrate the Thai New Year in style. Developed by MJ_Cartoon, these pop-up effects bring the joy and excitement of Songkran to your chats. Let the lively animations and cultural significance of Soidow Songkran create a festive atmosphere that will leave you and your friends immersed in the spirit of Thai New Year.
Note: This sticker pack is specifically designed for Thai language chats.