FamilyMart and Ultraman have teamed up to bring you the most powerful stickers of all time… for free! Friend FamilyMart's official account to get these stickers.

Title : FamilyMart × Ultraman
Price : Free
Type : Static
Expiry Date : Available till January 11, 2015.
Language : Japanese
Link : line://shop/detail/3496
https://www.line-stickers.com
–
FamilyMart × Ultraman LINE Stickers
: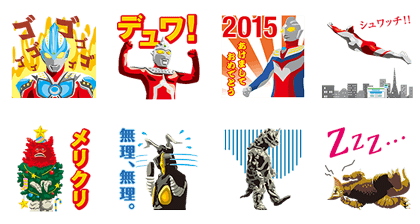 Have you ever wished you could have a little piece of Ultraman with you wherever you go? Well, now you can! FamilyMart, the popular convenience store chain, has released a limited edition Ultraman sticker collection that is sure to bring a smile to any fan's face.
Featuring all your favorite Ultraman characters, these stickers are the perfect way to add some personality to your phone case, laptop, or even your car bumper. Each sticker is made from high-quality vinyl, ensuring that it will last through all your adventures.
But wait, it gets better! Not only do these stickers look great, but they also come with a chance to win some seriously cool prizes. Simply collect three stickers and bring them to your local FamilyMart to receive a scratch card. Prizes include limited edition Ultraman merchandise, as well as free snacks and drinks from FamilyMart. It's a win-win situation!
So, whether you're a die-hard Ultraman fan or just looking for a fun way to add some flair to your belongings, be sure to check out the FamilyMart × Ultraman sticker collection. With its playful designs and exciting prizes, it's sure to become a must-have for any collector. Don't miss out on this chance to bring a little bit of Ultraman into your everyday life.