The second collaboration sticker set between the popular characters "Manju and Daifuku" and Nishimatsuya's "Mimi-chan" has arrived! You can receive eight adorable stickers for a limited time only ♪ Add Nishimatsuya's official account as a friend to get them.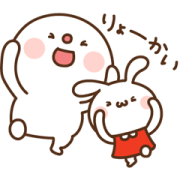 Title : MIMI-chan×Manju and Daifuku 2nd
Price : Free
Type : Static
Expiry Date : Available until July 19, 2023
Language : Japanese
Link : line://shop/detail/27386
https://www.line-stickers.com
–
MIMI-chan×Manju and Daifuku 2nd LINE Stickers
: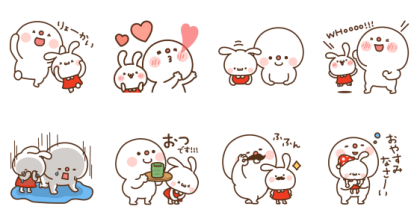 Get ready to enter a world of sweetness and adorable charm with the MIMI-chan×Manju and Daifuku 2nd sticker pack. Created by NISHIMATSUYA CHAIN Co., Ltd., these delightful stickers are here to bring a smile to your face and add a touch of cuteness to your chats. Available for free download, these static stickers are a must-have for anyone who appreciates the irresistible charm of Japanese culture.
The MIMI-chan×Manju and Daifuku 2nd sticker pack offers a wide range of static stickers that feature lovable characters, delectable treats, and heartwarming expressions. Whether you want to express joy, love, surprise, or simply brighten up someone's day, these stickers have got you covered. With their charming illustrations and vibrant colors, they are sure to capture the hearts of both young and young-at-heart sticker enthusiasts.
One of the highlights of this sticker pack is its authentic Japanese flair. Designed by NISHIMATSUYA CHAIN Co., Ltd., a renowned company that specializes in Japanese confectionery, these stickers pay homage to traditional Japanese treats such as manju and daifuku. Each sticker showcases the mouthwatering delicacies in all their delicious glory, making you crave a taste of Japan while chatting with your friends and loved ones.
If you're a fan of the Japanese language or simply enjoy immersing yourself in different cultures, you'll be delighted to know that the MIMI-chan×Manju and Daifuku 2nd sticker pack is available in Japanese. Embrace the beauty of the language as you exchange messages with your friends, learn new expressions, and experience the charm of Japanese culture firsthand. These stickers serve as a delightful way to connect with fellow Japanese language enthusiasts and spread the joy of kawaii culture.
Make sure to mark your calendars because these stickers will be available for download until July 19, 2023. Don't miss out on the opportunity to infuse your chats with sweetness and cuteness. Grab your favorite messaging app, visit line://shop/detail/27386, and follow the simple steps to download and install the stickers. Whether you're an avid LINE user or prefer other messaging platforms, these stickers are compatible with various apps, allowing you to spread the charm of MIMI-chan and her adorable treats wherever you go.
The collaboration between NISHIMATSUYA CHAIN Co., Ltd. and the lovable characters of MIMI-chan, Manju, and Daifuku brings together the worlds of confectionery and digital communication. These stickers celebrate the joy of indulging in Japanese sweets while expressing your emotions in a uniquely delightful way. They serve as a reminder to appreciate the small pleasures in life and to share them with those we hold dear.
MIMI-chan×Manju and Daifuku 2nd sticker pack is a must-have for anyone who adores Japanese culture, cute characters, and delicious treats. With their irresistible charm and authentic Japanese flair, these stickers will make your chats sweeter and brighter. So, don't wait any longer—download the sticker pack today and let MIMI-chan and her delightful treats sprinkle joy and cuteness into your conversations. Enjoy!