Super cute and versatile for everyday use! LINE Shopping Live × Speak Up a Bit brings humor to the stage! These incredibly useful stickers will accompany you in lively chat rooms. Simply add the official account of LINE Shopping Live as a friend to own these stickers.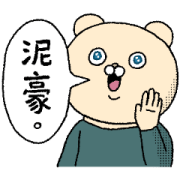 https://www.line-stickers.com
–
LINE SHOPPING LIVE×liao1o1o LINE Stickers
: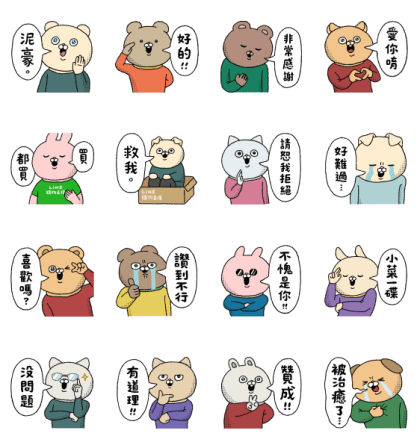 If you're looking for a vibrant and lively sticker collection, you're in luck! Introducing the LINE SHOPPING LIVE × liao1o1o sticker collection, featuring dynamic static stickers that will bring excitement to your chats.
The LINE SHOPPING LIVE × liao1o1o collection offers a diverse range of static stickers designed to bring energy and enthusiasm to your conversations. With colorful and eye-catching designs, these stickers are sure to make your messages stand out. From joyful expressions to trendy phrases, the liao1o1o stickers allow you to convey your emotions and messages in a vibrant and engaging way.
What's even better is that these stickers are available for free! Yes, you read that right. You can download and use these stickers without spending a single cent. LINE understands the importance of self-expression and wants to make it accessible to everyone. So, whether you're a fan of liao1o1o or simply looking to add a splash of liveliness to your chats, the LINE SHOPPING LIVE × liao1o1o collection is perfect for you.
Let's dive into the exciting world of the LINE SHOPPING LIVE × liao1o1o sticker collection. You'll find stickers featuring a variety of vibrant and animated characters, each with their own unique expressions and poses. Whether you want to show your excitement, share a laugh, or express your love for shopping, there's a sticker for every occasion. These stickers are thoughtfully designed to bring life to your conversations and create a dynamic visual experience.
To get your hands on these captivating stickers, simply visit the LINE SHOPPING sticker store. The collection is available in Mandarin, catering to users who prefer to express themselves in Chinese. With just a few taps, you can easily download the stickers and start using them in your LINE chats. It's a quick and effortless way to add a burst of energy and liveliness to your conversations.
It's important to note that the LINE SHOPPING LIVE × liao1o1o sticker collection has an expiration date. The stickers will be available until May 27, 2023. So make sure to grab them before they're gone and enjoy their dynamic charm for an extended period.
The LINE SHOPPING LIVE × liao1o1o sticker collection is published by LINE SHOPPING LIVE and is copyrighted by LINE Shopping LIVE. As a reputable platform, LINE ensures that the stickers are of high quality and officially licensed.
Don't miss out on the opportunity to enhance your LINE chats with the vibrant and lively LINE SHOPPING LIVE × liao1o1o stickers. Visit the LINE SHOPPING sticker store, download them for free, and let the dynamic characters of liao1o1o bring an extra dose of excitement to your conversations. Express yourself in style and make your chats more engaging and enjoyable.