In this moment with the person you love, express your heart full of love through these adorable stickers! Pink and Ven couple stickers will make your heart flutter!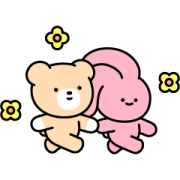 https://www.line-stickers.com
–
Pink & Ven's Real Love LINE Stickers
:

Love is a universal language, and what better way to express it than with "Pink & Ven's Real Love" stickers! Created by Studio Origin, these adorable and heartwarming stickers are the perfect addition to your chats on LINE and WhatsApp. With their cute and endearing static design, these stickers are a must-have for anyone who wants to spread love, joy, and sweetness in a playful and charming way!
You can purchase "Pink & Ven's Real Love" stickers at a price of 100 Coins, making them a paid option. However, the delightful and expressive design of these stickers make them worth every coin for those looking to express their feelings in a unique and heartwarming way. You can easily purchase these stickers from the official Studio Origin store on LINE by following the link.
One of the standout features of these stickers is their static design. Each sticker features a lovable duo of Pink and Ven, expressing their love and affection for each other in various adorable poses and gestures. From hugs and kisses to holding hands and sharing heartwarming moments, these stickers beautifully capture the essence of real love. The static design allows you to easily convey your emotions and share the love with your special someone with just a tap of a button. These stickers are perfect for expressing your love on any occasion, whether it's Valentine's Day, anniversaries, or just to make your loved one feel special in your chats!
"Pink & Ven's Real Love" stickers are exclusively available in Mandarin language, making them a perfect choice for those who want to express their love in Chinese or anyone who wants to add a touch of cultural flair to their chats. The stickers feature romantic phrases in Mandarin, such as "爱你一万年" (Love you for ten thousand years) and "陪你到永远" (Be with you forever), allowing you to express your love in a heartfelt and meaningful way. Your Mandarin-speaking loved one will be touched by such a personalized and thoughtful gesture in their chats!
These stickers are published by Studio Origin, a reputable and creative publisher on LINE. This ensures that you are getting high-quality stickers that are officially licensed and approved. The stickers are also protected by copyright, making them exclusive to Studio Origin and adding a touch of uniqueness to your chats. You can trust the quality and authenticity of these stickers as you share your love and affection with your special someone.
The best part? "Pink & Ven's Real Love" stickers have no expiration date, which means you can use them in your chats for as long as you like without worrying about them disappearing. This makes them a great investment for anyone who wants to continue using these adorable stickers to express their love and affection in their chats beyond just special occasions. You can keep spreading the love with Pink and Ven's heartwarming stickers for as long as you want!
To add "Pink & Ven's Real Love" stickers to your LINE and WhatsApp chats, simply follow the link to the official Studio Origin store and make your purchase. Once you've purchased these stickers, you can easily access them in your sticker library and start sending them to your loved ones to express your love in a cute and heartwarming way!
Pink & Ven's Real Love Sticker Chat is a delightful and heartwarming way to express your affection, share your love, and spread joy in your chats. With its adorable animations, customization features, and versatile designs, these stickers are sure to bring a smile to your face and make your chats more loving, playful, and enjoyable. So don't wait, let Pink & Ven be your partners in love and express your emotions in the most adorable and playful way possible