A collection of stickers featuring dogs that can be conveniently used in various situations. You can receive them by becoming friends with the Uka Uka official account!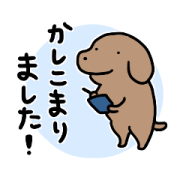 Title : Very easy to use stickers featuring dogs
Price : Free
Type : Static
Expiry Date : Available until June 29, 2023.
Language : Japanese
Link : line://shop/detail/28496
Publisher : ukauka
Copyright : ukauka
https://www.line-stickers.com
–
Very easy to use stickers featuring dogs LINE Stickers
: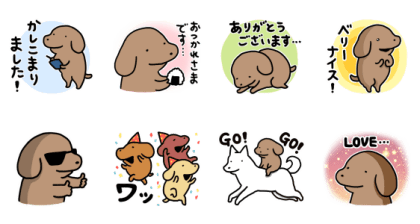 Howdy there, fellow netizens! Today, we're going to talk about the hottest gossip in the virtual world. It's all about LINE and WhatsApp stickers, my friends! And trust me, you won't have a ruff time getting on board with this trend because we're gonna bark about some frisky and fetchin' dog stickers that will unleash your creative side.
Let me introduce you to "Very easy to use stickers featuring dogs" from the creative and witty line-up of ukauka. These stickers will stir up any chats and add a dash of paw-some humor to your conversations. And the best part? They are absolutely free! That's right, my furry friends, you don't need to spend a single woof to get your paws on these cute little canines.
Now, let's talk about the specifics of the stickers. First off, they are static, which means you won't have to deal with those pesky animations that sometimes make you dizzy or give you a headache. They are perfect for those who prefer a simpler and straightforward approach when it comes to virtual expression.
But don't let their simplicity fool you. These stickers are packed with personality! From silly faces to playful poses, these puppies will have you 'awww'-ing and chuckling in no time. There are a total of 40 stickers featuring different breeds of dogs, from the classic Shih Tzu to the fierce-looking Doberman. You'll surely find a pup that will bark out your personality.
Now, one of the most important questions: how long can we enjoy these doggos? Well, according to the information provided, these stickers will be available until June 29, 2023. It's still a long way to go, but who knows what kind of trendy stickers will come out by then, so better start using them before they become old-fashioned.
Oh, and one little quirk about these stickers is that they are in the Japanese language. Don't worry, it won't affect how you enjoy them. Dogs have a universal language, and that's cuteness. Besides, it's a great opportunity to learn some basic Nihongo greetings and phrases. Who knows, you might impress a Japanese friend with your new-found language skills.
To get these stickers, all you need to do is follow the link line://shop/detail/28496, and voila! You can now start sending dog stickers to your hearts' content. It's that easy!
So, what are you waiting for? Get your tail wagging and add some canine charm to your chats! Whether it's spreading some positivity to your online buddies or sending virtual hugs to your furry pets, these stickers will surely unleash some good vibes. Thank you for paw-some reading, and don't forget to sniff out for more fun and quirky finds.
Til' next time, folks!