The official character of Kinraiser, "Cuties," makes its debut as LINE stickers! The adorable duo of "Kyutouki" and "Yakan" will warm your heart in your chat conversations. You can receive these stickers by becoming friends with the Kinraiser official account.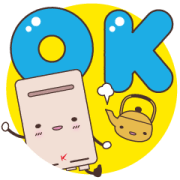 https://www.line-stickers.com
–
Hot water makers:kyu-tows LINE Stickers
: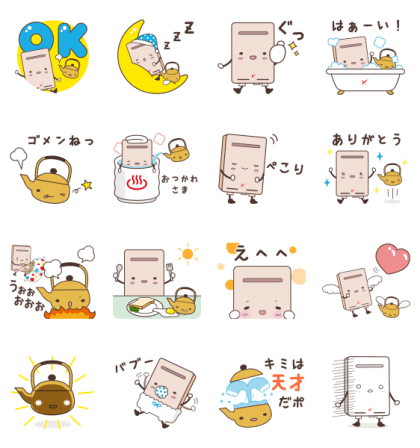 Introducing the Hot Water Makers: kyu-tows sticker collection, featuring adorable static stickers that will add a touch of sweetness to your chats.
The Hot Water Makers: kyu-tows collection offers a delightful selection of static stickers showcasing cute characters engaged in various activities related to hot water. From brewing a steaming cup of tea to relaxing in a warm bath, these stickers capture the cozy and comforting moments associated with hot water. With their charming designs and warm color palette, these stickers are perfect for conveying a sense of relaxation and tranquility in your conversations.
The best part is that these stickers are available for free! That's right, you can download and use these stickers without spending a single yen. LINE understands the importance of self-expression and wants to provide users with delightful sticker options. Whether you're a hot water enthusiast or simply looking to add some cuteness to your chats, the Hot Water Makers: kyu-tows collection is a perfect choice.
Let's explore the adorable world of the Hot Water Makers: kyu-tows sticker collection. You'll find stickers featuring charming characters enjoying various hot water-related activities, such as pouring hot water into a cup, taking a soothing bath, or simply basking in the warmth of a cozy drink. Each sticker is beautifully illustrated, capturing the serene and heartwarming moments associated with hot water. These stickers are sure to bring a smile to your face and create a cozy atmosphere in your chats.
To get your hands on these delightful stickers, simply visit the LINE sticker store. The collection is available in Japanese language, catering to users who prefer to express themselves in their native language. With just a few taps, you can easily download the stickers and start using them in your LINE chats. It's a simple and enjoyable way to infuse your conversations with cuteness and warmth.
It's important to note that the Hot Water Makers: kyu-tows sticker collection has an expiration date. The stickers will be available until May 29, 2023. So make sure to grab them before they're gone and enjoy their adorable charm for an extended period.
The Hot Water Makers: kyu-tows sticker collection is published by KINLISER and is copyrighted by KINLISER Co., Ltd. As a reputable publisher, they ensure the quality and authenticity of the stickers.
Don't miss out on the opportunity to enhance your LINE chats with the delightful Hot Water Makers: kyu-tows stickers. Visit the LINE sticker store, download them for free, and let the cute characters bring warmth and sweetness to your conversations. Express yourself in a charming and cozy way and make your chats even more enjoyable.