IFBB PRO Super Hot Dog King has announced that by adding the official account of Fruity Nutty as a friend, the first 100,000 friends will be eligible to receive this sticker set..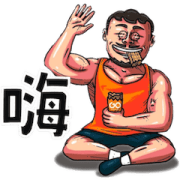 Title : Hot Dog King
Price : Free
Type : Static
Expiry Date : Available until May 23, 2023
Language : Mandarin
Link : line://shop/detail/28633
Publisher : GOGONUTS
Copyright : GOGONUTS
https://www.line-stickers.com
–
Hot Dog King LINE Stickers
: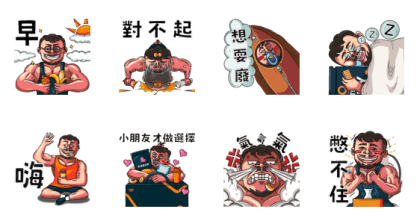 Satisfy Your Hunger with Hot Dog King Stickers!
Step into the delicious world of Hot Dog King with these enticing static stickers! Created by GOGONUTS, this sticker pack is here to add a flavorful twist to your chats. Best of all, they're available for free download, so you can enjoy the mouthwatering goodness without spending a dime.
The Hot Dog King sticker pack offers a variety of static stickers featuring the iconic Hot Dog King character. From mouthwatering hot dogs piled high with toppings to playful expressions that capture the joy of indulging in your favorite snack, these stickers are perfect for expressing your love for hot dogs or simply adding some tasty fun to your conversations.
One of the highlights of this sticker pack is its Mandarin language support. Whether you're a native Mandarin speaker or simply enjoy exploring different languages, these stickers provide a delightful opportunity to connect with friends, share your passion for hot dogs, and add a touch of international flavor to your chats.
Make sure to grab these stickers before they disappear! They will be available for download until May 23, 2023. To get your hands on the Hot Dog King sticker pack, simply visit the following link: line://shop/detail/28633. Whether you're an avid LINE user or prefer other messaging platforms, these stickers are compatible with various apps, making it easy to share the deliciousness with friends and family.
The creation of the Hot Dog King sticker pack by GOGONUTS celebrates the joy of indulging in a tasty hot dog. These stickers are a tribute to the delightful combination of flavors and the excitement that comes with enjoying a satisfying meal. They serve as a reminder to appreciate the simple pleasures in life and to share them with those who share your love for delicious treats.
Hot Dog King sticker pack is a must-have for anyone who adores hot dogs or wants to add a flavorful touch to their conversations. With their mouthwatering designs and Mandarin language support, these stickers will satisfy your hunger for tasty visuals and linguistic exploration. So, don't wait any longer—download the sticker pack today and let the Hot Dog King reign supreme in your chats. Enjoy the deliciousness and the fun!