Kao, with "Kirei Beautiful Sustainable Living" as the main theme, has collaborated with "Hello Rabbit" to launch a series of cute and practical eco-friendly stickers. Use these stickers now and share the message of plastic reduction and environmental protection with your family and friends! Simply add the Kao Smiling Heart Life official account as a friend, and the first 100,000 friends can obtain these stickers.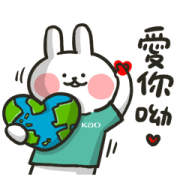 Title : Kao Kirei-Making Life Beautiful
Price : Free
Type : Static
Expiry Date : Available until May 16, 2023
Language : Mandarin
Link : line://shop/detail/28541
Publisher : Kao
Copyright : Kao Corp.
https://www.line-stickers.com
–
Kao Kirei-Making Life Beautiful LINE Stickers
: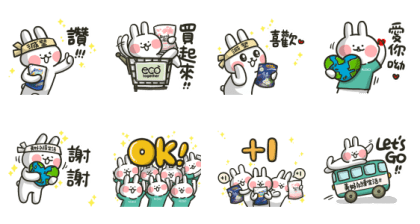 Stickers are an essential part of messaging culture, and companies have started to recognize their potential in marketing and brand promotion. One such example is the Kao Kirei stickers, which are free to download on LINE and available only in Mandarin.
Kao Kirei is a brand that promotes beauty and self-care, and their stickers feature cute and adorable illustrations that relate to their theme. The stickers showcase different aspects of self-care, such as taking a bath, applying a face mask, and doing yoga. These stickers are an excellent way to encourage users to take care of themselves and promote healthy habits.
What's interesting about Kao Kirei stickers is that they have an expiry date. They are available until May 16, 2023, which creates a sense of urgency and exclusivity. Users who download the stickers feel like they are part of a select group, which adds to the appeal of the stickers.
The Kao Kirei stickers are static, which means that they don't have any animations. However, the illustrations are so cute and well-drawn that users won't feel like they're missing out on anything. The static nature of the stickers also makes them perfect for users who prefer a more straightforward design.
The Kao Kirei stickers are also a smart marketing move by the brand. By offering free stickers, Kao can increase brand recognition and awareness among users. The stickers act as an advertisement for the brand and promote their message of self-care.
Overall, the Kao Kirei stickers are an excellent addition to the LINE sticker collection. They are free, cute, and promote a healthy lifestyle. The fact that they are only available for a limited time adds to their appeal and exclusivity. If you are a fan of Kao Kirei or want to promote self-care in your conversations, these stickers are definitely worth a download.
It's fascinating to see how companies are using stickers as a marketing tool. LINE and other messaging apps have become a platform for companies to promote their brand and reach a broader audience. Stickers are an excellent way to connect with users and promote brand loyalty. As the use of stickers in marketing grows, we can expect to see more creative and innovative sticker designs in the future.